Team Lists:
TEAMS: NSWRL Sydney Shield - 2019 Grand Final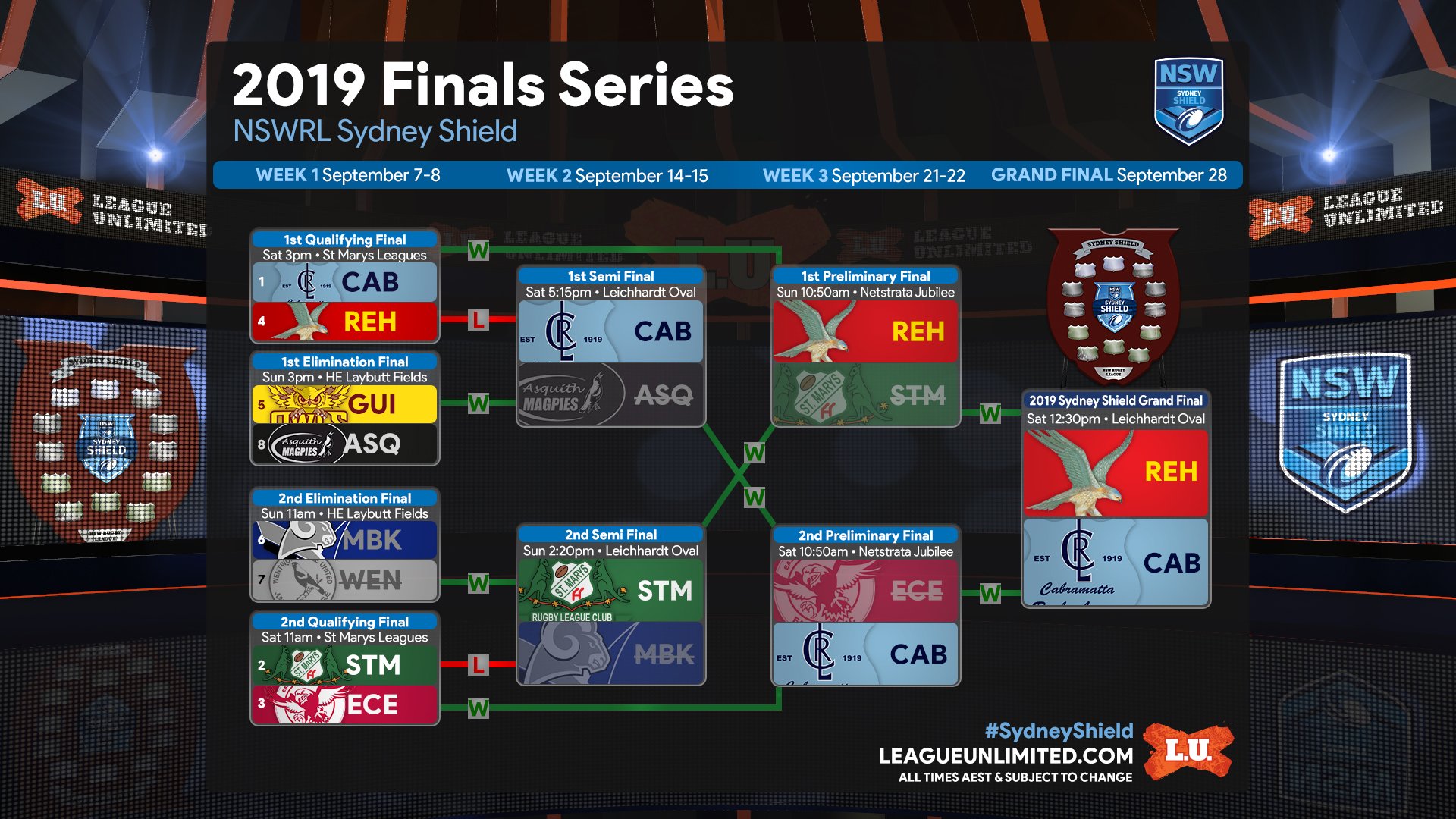 It's Teamlist Tuesday for the 2019 NSWRL Sydney Shield Grand Final! Get the full teams for the #SydneyShield decider here.
This match will be broadcast live on Steele Sports and Hawkesbury Radio.

All times are listed in AEST (NSW/QLD/VIC/ACT) unless otherwise noted.
Twitter: Follow @LeagueUnlimited
Facebook: Like LeagueUnlimited - NRL & Rugby League News
---
2019 Grand Final
Ryde Eastwood Hawks v Cabramatta Two Blues
Sat September 28 2019, 12:30pm at Leichhardt Oval

1. Angelo Panambalama 2. Josh Rizk 3. Bradley Cousins 4. Bradley Cincotta 5. Kirk Patton 6. Adam Rizk 7. Mitchell Gray 8. Callum Ellis 9. Bennett Wheelhouse 16. Santino Battagliolo 10. Langi Suli-Ruka 12. Tyler Seymour 11. Angus McElroy 14. Tristan Evans-Tsoi 15. Braydon Guyan 17. Kobe Thorson 25. Dane Knuth 19. Joshua Condon 20. Shannon Condon 21. Blake Layton 24. Luke Tannous

1. Christian Papa 2. Isiah Tuari 3. Tavena Koroisau 4. Anthony Raheb 5. Jason Jana 6. Isiah Panuve 7. Solomon Tomokino 8. Hira Raharaha 9. Ayden Carling 10. Nick Toomata 11. Justin Frain 12. Auzzie Tuwhangai 13. Samuel McGregor 14. Kakapuna Fotu 16. Keli Legutua 18. Tevita Masima 22. Tevita Vea
Match Officials
Referees: Damien Briscoe;Sideline Officials: John Woods, Patrick Mackey;
---