Team Lists:
TEAMS: NSWRL SG Ball Cup - 2018 Round 1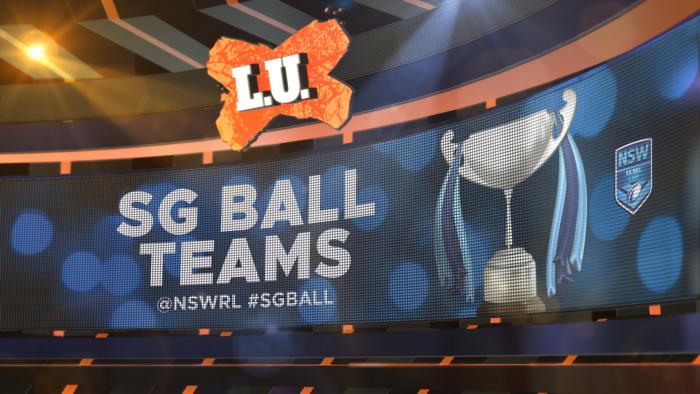 It's Teamlist Tuesday for Round 1 of the 2018 SG Ball Cup Season! Around 5pm AEDT every Tuesday, the full teams for each #SGBall round will be posted right here!
All times are listed in AEDT (NSW/QLD/VIC/ACT) unless otherwise noted.
Twitter: Follow @LeagueUnlimited
Facebook: Like LeagueUnlimited - NRL & Rugby League News
---

1. Tyler Hunt 2. Billy Judge 3. Vincent King 4. Jack Holt 5. Juan Ryan 6. Jaydon Solomon 7. Kade Mcdonald 8. Daniel Potaka 9. Trent Wedding 10. Aidan Carstairs 11. Jaiden Wilkinson 12. Willem Smith 13. Bowman Stein 14. Zedekiah Clark-wright 16. Yuri Taipeti 17. Taine Boelen 18. Jamie Vogler 20. Rangitukia Teirney

1. Tevita Masima 2. Lorenzo Pritchard 3. William Kei 4. Peter Tevaga 5. Tyler Tuigamala 6. Tyler Field 7. Penioni Tohi 8. Stefano Utoikamanu 9. Kyle Schneider 10. Valance Harris 11. Matt Doorey 12. Charbel Tasipale 13. Joseph Small 14. Jayden Yates 15. Samuel Hughes 16. Sione Tupou 17. Aitasi Matautu 18. Christian Pasitoa 19. Jayden Skinner 20. Christian Wihongi 21. Joshua Hey
Match Officials
Referees: Ben Solomon;Sideline Officials: Alison Watters, Brock Midson;
---

1. Mckenzie Baker 2. Kyle Wilson 3. Bayleigh Bentley-Hape 4. Logan Muir 5. Anthony Pele 6. Harry Wilson 7. Bailey Hayward 8. Harry Larkin 9. Freddy Lussick 10. Geordie Brand 11. T. Metusela Su'apaia 12. Luca Moretti 13. Duwanye Fuimaono 14. Luke Sommerton 15. Faima Matila 16. Kobe Rugless 20. L. Hutchinson-walters 21. Thomas Giles 22. Craig McKenzie

1. Logan Dillon 3. Kurt Picken 4. Michael Fahd 5. Jazzaiah Schaafhausen 6. Connor Garrety 7. James Valevatu 8. Terence Toomata 9. Ryan Gray 10. Penisimani Teaupa 11. Jackson Topine 12. Christopher Patolo 13. William Saunders 14. Funaki Matavesi 15. Mosese Pope 16. Justin Filo 17. Jake Averillo 19. Benjamin Mallia
Match Officials
Referees: Luke Heckendorf;Sideline Officials: Daniel Perry, Brandon Cavellaro;
---

1. Albert Hopoate 2. Simione Afeaki 3. Max Lehmann 4. Ben Trbojevic 5. Keegan Turner 6. Joshua Schuester 7. Tremaine Terzius 8. Keith Titmuss 9. Tyran Ott 10. Mark Tepu-smith 11. Sean Vaivelata 12. Joshua Fepuleai 13. Tom Hardcastle 14. Sione Fainu 15. Filimaua Filimaua-Tau 16. Alex Tuitavake 17. Raff Letoi 18. Logan Humphries 19. Jack Birt 20. Amarni Biddle

1. Samuel Stratis 2. Kore-lee Perana 3. Mydon Ong 4. Ezra Gibson 5. Kane Mirable Kumar 6. Malaki Malaki 7. Floyd Tighe 8. Marcus Moore 9. Michael Brown 10. Darcy Hardman 11. Lennox Whittaker 12. Callan Burgess 13. Tevita Piukana 14. Trent Kurnoth 15. Franco Parodiso 16. Leonard Vai 17. Jimmy Hokafuna 18. William O'toole
Match Officials
Referees: Cameron Turner;Sideline Officials: Jack Bird, Bianca Santi;
---

1. Jarrett Subloo 2. Aidan Gaffey 5. Lachlan Eveston 7. Immanuel Tagaloamatua 8. Benjamin Nanesa 9. Joe Roberts 10. Matthew Dragisic 11. Jordan Martin 13. Matthew Fellows 15. Maleke Morris 16. Kepa Rawhiti 18. Solomone Kaufusi

1. Logan Aldridge 2. Ratu Timoci Vesikula 3. K. Akau'ola Laula 4. Ethan Saisoaa 5. Salesi Malu 6. Kaylib Savage 7. Ronan King 8. Berat Kaya 9. Peter Mamouzelos 10. Lachlan Gale 11. Maila Chan-Foon 12. Joe Ngere 13. T. Sionetali 14. Ky Bouris 15. Aidan Manowski 16. Darcy Shum-cottrell 17. Ben Handley 18. Kobe Rodger 24. John Dodds
Match Officials
Referees: Adam Williams;Sideline Officials: Andrew Nightingale, Mitchell Robinson;
---

1. Charlie Staines 2. Logan Cohen 3. Thomas Farr 4. Stephen Crichton 5. Mathew Faauila 6. Matt Burton 7. Hayden Bonanno 8. Spencer Leniu 9. Maurice Trindall 10. Joseph Hobby 11. Shawn Blore 12. Ratu Nanovo 13. Lindsay Smith 14. Chase Chapman 15. Jordan Eshman 16. Luke Puru 17. Zac Duclos 18. Marc Zaurrini 19. Ethan Clark-Wood 20. James Taufetee 21. Laisenia Turuva

1. Joshua Rizk 2. John 'alofi 3. Reggie Alofipo 5. Samuel Karwhin 6. Kurtis Morrin 7. Joel Saldaneri 8. Sosia Teakaraanga 9. Tane Edmed 10. Keenan Ben-Paniora 11. Uellington Seve 12. Ethan Mokoia 13. Dennis Mataia 14. Ben Cody 15. Jason Smyth 16. Callum Ellis 18. Daniel Sykes 19. Viliame Ravouvou 20. Johnny Lee Gabrael 21. Paula Waqa
Match Officials
Referees: Tom Stindl;Sideline Officials: Cody Simmons, Todd Ripps;
---

1. Starford Toa 2. Caleb Nicholls 3. Timanu Alexander 4. Toby Marks 5. Darcy Heaney 6. Jock Madden 7. Phoenix Crossland 8. Campbell Sheppard 9. Liam Wilkinson 10. Kingston Puru 11. Simon Asela 12. Cooper Jenkins 13. Jason Purcell 14. Mitch Black 15. Neihana Oldham 16. Christian Maanaima 17. Daniel Ticehurst 18. Simi Sasagi

1. Ethan Hicks 2. Jason Saab 3. James Coyne 4. Volkan Er 5. Cody Ramsey 6. Darcey Moran 7. Daniel Payne 8. Jared Wooster 9. Harris Georgopoulos 10. Simeone Taateo 11. Kane Bradley 12. Jack Emery 13. Murray Sua 14. Jye McRae 15. Kane Evans 16. Henry Togise 17. Aden Perry 18. Spiro Psiroukis
Match Officials
Referees: Shaun Greentree;Sideline Officials: Tobi Holder, Kassandra McDonald;
---

1. Declan Casey 2. Eliah Veikoso 3. Joniah Lualua 4. Vito Tevaga 5. Elliott Moaga 6. Angus Ernst 7. Kai Broadhurst 8. Franklin Pele 9. Isaac Longmuir 10. William Swann 11. Adam Mortlock 12. Jayden Tanner 13. Kai Parker 14. Thomas De Meio 15. Bradley Middlebrook 16. Nathan Atkinson 17. Alec Brennan 18. Kyle Pickering 19. Antonio Poua 20. Damon Smith 21. Jenson Taumoepeau

1. Jack Frasca 2. Adam Riding 3. Tallis Angianga 4. Tyson James 5. Harrison Packham 6. Lewis Sheens 7. Toby Elliot 8. Jake O'Meley 9. Harrison Edwards 10. Kingi Callaghan 11. Scott Casson 12. J. Wilkinson Alipate 13. Ryan Jones 14. Fletcher Berry 15. Brae Verheyen 16. Ky Worrell 17. Ryan Shaw 18. Aaron Commins 19. Benjamin Ma'u
Match Officials
Referees: Mitchell Currie;Sideline Officials: Christopher Chalkley, Joseph Tesoriero;
---

1. Jack Walsh 2. Kane Ball 3. Aaron Schoupp 4. Mathew Feagai 5. Tyrone Harding 6. Tarje Whitford 7. Jayden Sullivan 8. Shalom O'Ofou 9. Connor Muhleisen 10. Matthew Nicholson 11. Blake Dowel 12. Hudson Spicer 13. Jalal Bazzaz 14. Sam Hooper 16. Dylan Lucas 17. Ben Fulton 18. Zach Herring 19. Bailey Antrobus 20. Sean Payne 21. Joseph Dickson

1. Cameron Oitmann 2. Thomas Delailoa 3. Freddy Kini 4. Jayke Lealuga-Puhotau 5. Pili Jnr Togomaga 6. Harrison Meredith 7. Christian Urso 8. Mavoni Tuifua 9. Ray Jankovic 10. Tukaha Kyriacou 11. Jakob Sykes 12. Oscar Chong Nee 13. Raymond Taumalolo 14. Ben Quinlan 15. Jesse Jackson 16. Rick Thorn 17. Aaron Wilson 18. Riley Stokes 19. Jacob Wright 20. Jodeci Laumua
Match Officials
Referees: Ben McMurray;Sideline Officials: Micheal Ford, Ethan Murray;
---