Results and Scorers:
RESULTS: 2020 NSWRL U18 UNE SG Ball Cup Round 4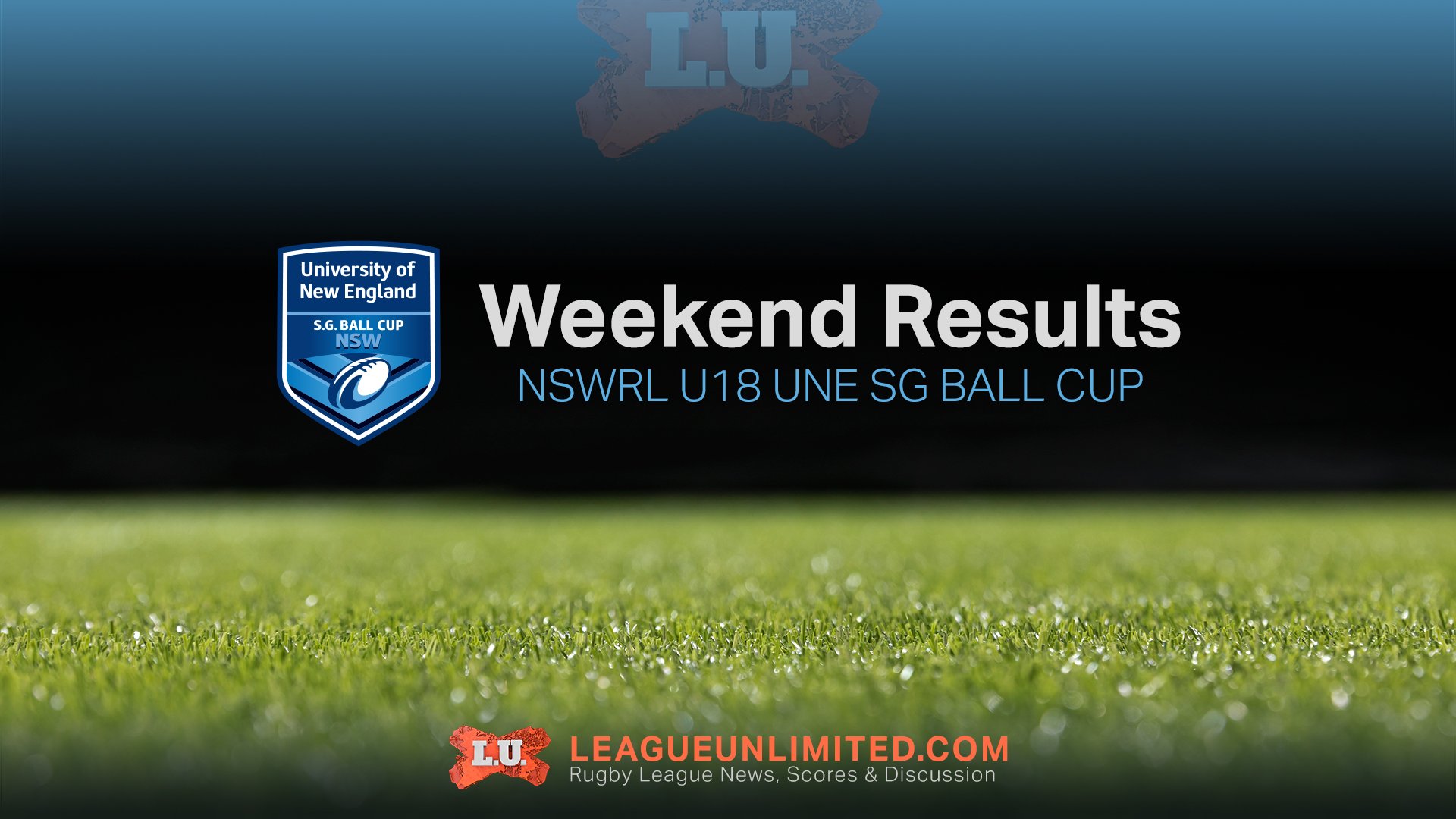 All the results and scorers from the fourth round of the NSWRL U18 UNE SG Ball Cup in 2020.
All listed times are AEDT (NSW/VIC/ACT).
---
RELATED: See the full list of 2020 NSWRL U18 UNE SG Ball Cup Draw and Results.
---
South Sydney Rabbitohs 16 Balmain Tigers 14
Venue: Metricon High Performance Centre
Date: Saturday 29 February 2020 at 11:30am
South Sydney Rabbitohs (16)
Tries: Mac Puafisi, Joseph Lavake, Carson Kaho
Goals: Dion Teaupa 2
Balmain Tigers (14)
Tries: Sam Kanaan, Brandon Tumeth, Zane Camroux
Goals: Zane Camroux 1
---
Western Suburbs Magpies 12 Illawarra Steelers 36
Venue: Campbelltown Stadium
Date: Saturday 29 February 2020 at 12:30pm
Western Suburbs Magpies (12)
Tries: Byron Strickland, Jibiril Eltrich
Goals: Jibiril Eltrich 2
Illawarra Steelers (36)
Tries: Toby Boothroyd 2, Ben Lavender, Cooper Tunbridge, Phoenix Vetenibua-Finnerty, Tyrell Sloan, Tyrone Roberts
Goals: Tyrone Roberts 4
---
Sydney Roosters 40 Canberra Raiders 26
Venue: Henson Park
Date: Saturday 29 February 2020 at 1:00pm
Sydney Roosters (40)
Tries: Moala Graham-Taufa 2, Lani Graham-Taufa, Jordan Swann, Corey Ross, Alan Holten, Tallis Duncan
Goals: Ronald Volkman 6

Canberra Raiders (26)
Tries: Livai Kaloutolu 2, Henry Alesi, Jack Williams, Caleb Esera
Goals: Junior Tupou 3

---
St George Dragons 30 Manly-Warringah Sea Eagles 44
Venue: Mascot Oval
Date: Saturday 29 February 2020 at 1:00pm
St George Dragons (30)
Tries: Ben Johnson 2, Callum Perryman 2, Brendon Tapuai
Goals: Isaac Morris 5

Manly-Warringah Sea Eagles (44)
Tries: Kaeo Weekes 2, Tolu Koula 2, Krystian Mapapalangi, Daniel O'Donnell, Luke Tucker, Marley Hunter
Goals: Charlie Thompson 6
---
Penrith Panthers 70 West Coast Pirates 4
Venue: Panthers Stadium
Date: Saturday 29 February 2020 at 1:00pm
Penrith Panthers (70)
Tries: Jesse Buchan 2, John Sagaga 2, Sunita Lotoaniu, Cruise Tweedie, Niwhai Puru, Donovan Boney, Braith Alexander, Rylee Blackhall, Zion Tauasa, Kristian Li Mai, Lachlan Blackburn
Goals: Niwhai Puru 4, Donovan Boney 5
West Coast Pirates (4)
Tries: Quintin Fui
---
Victoria Thunderbolts 12 Parramatta Eels 42
Venue: Casey Fields
Date: Saturday 29 February 2020 at 2:00pm
Victoria Thunderbolts (12)
Tries: Tui Ieremia, Fonua Pole
Goals: Sualauvi Faalogo 2
Parramatta Eels (42)
Tries: Peter Taateo 2, Tyrone Sau 2, Josh Chappell, Max Tupou, Vlado Jankovic
Goals: Josh Chappell 7
---
Newcastle Knights 48 Canterbury-Bankstown Bulldogs 18
Venue: Maitland Regional Sportsground
Date: Saturday 29 February 2020 at 2:00pm
Newcastle Knights (48)
Tries: Noah Nailagoliva 2, Tevita Toloi, Brocco Uhrle, Jonah Pezet, Logan Radzievic, Tyrone Nean
Goals: Jonah Pezet 8
Canterbury-Bankstown Bulldogs (18)
Tries: Louie Yehia, Soloman Akama, Khaled Rajab
Goals: Kyle Weatherall 3

---
Cronulla-Sutherland Sharks 14 Warriors 38
Venue: PointsBet Stadium
Date: Sunday 1 March 2020 at 10:00am
Cronulla-Sutherland Sharks (14)
Tries: Te Wehi Waitere, Sam Stonestreet, Kitione Kautoga
Goals: Romano Cook 1
Warriors (38)
Tries: Tanila Otukolo, TJ Devery, Jeremiah Asi, Josiah Karapani, Tamehana Paruru, Sebastyan Jack
Goals: Sione Moala 7

---
North Sydney Bears and Central Coast Roosters had a bye this round.
---
RELATED: Click here to view the current NSWRL U18 UNE SG Ball Cup ladder.