Results and Scorers:
RESULTS: 2019 NSWRL U16 UNE Harold Matthews Cup Round 1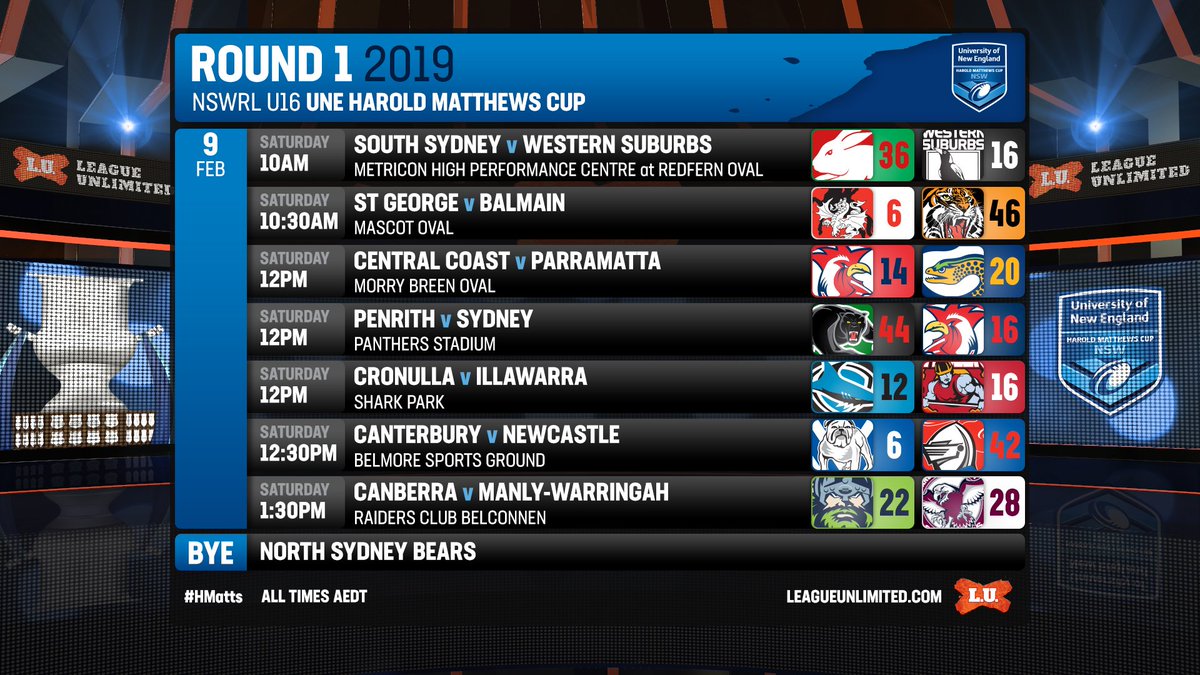 All the results and scorers from the opening round of the NSWRL U16 UNE Harold Matthews Cup.
All listed times are AEDT (NSW/VIC/ACT).
---
RELATED: See the full list of 2019 UNE Harold Matthews Cup Draw and Results.
---
South Sydney Rabbitohs 36 Western Suburbs Magpies 16
Venue: Metricon High Performance Centre
Date: Saturday 9 February 2019 at 10:00am
South Sydney Rabbitohs (36)
Tries: Faresa Palu 2, Joseph Suaalii, Ratu Vesikula, Christian Smirnotis, Luca Ace-Nasteski, Joshua Mocevakaca
Goals: Joseph Nohra 4
Western Suburbs Magpies (16)
Tries: Jay Shipley, Alosomu Lolohea, Justin Matamua
Goals: Justin Matamua 2
---
St George Dragons 6 Balmain Tigers 46
Venue: Mascot Oval
Date: Saturday 9 February 2019 at 10:30am
St George Dragons (6)
Tries: Dannie Samani
Goals: Jayden Samrani 1
Balmain Tigers (46)
Tries: Tafeuni Vea 2, Wilkinson Papalii-Afoa, Watisoni Bogiso, Alex Miltiadous, Reagan Anthony Watts, Christian Jardim, Tanous Sukkar, Will Carroll
Goals: Christian Jardim 3, Tanous Sukkar 1, Reagan Anthony Watts 1
---
Central Coast Roosters 14 Parramatta Eels 20
Venue: Morry Breen Oval
Date: Saturday 9 February 2019 at 12:00pm
Central Coast Roosters (14)
Tries: Jack Morrison 2, Tyler Moriarty
Goals: Ben Dufficy 1
Parramatta Eels (20)
Tries: James Malauulu, Tobias Lewis, Hayden Reti-McClintock
Goals: Francis Faaofo Tuitino 4
---
Cronulla-Sutherland Sharks 12 Illawarra Steelers 16
Venue: Shark Park
Date: Saturday 9 February 2019 at 12:00pm
Cronulla-Sutherland Sharks (12)
Tries: Chaz Jarvis, Te Wehi Waitere, Angus Sutherland

Illawarra Steelers (16)
Tries: Coleby Smith, Ben Lavender, Trey Barlow
Goals: Toby Peters 2
---
Penrith Panthers 44 Sydney Roosters 16
Venue: Panthers Stadium
Date: Saturday 9 February 2019 at 12:00pm
Penrith Panthers (44)
Tries: Alfred Uelese 3, Ryley Smith 2, Jecii Pritchard, Caleb Coroneos, Jake Hay
Goals: Jake Hay 5, Caleb Coroneos 1
Sydney Roosters (16)
Tries: Louis Grosssemy, Aaron Dimovitch, Brent Hawkins
Goals: Connor McMullen 2
---
Canterbury-Bankstown Bulldogs 6 Newcastle Knights 42
Venue: Belmore Sports Ground
Date: Saturday 9 February 2019 at 12:30pm
Canterbury-Bankstown Bulldogs (6)
Tries: Joseph O'Neill
Goals: Trieste Winitana 1
Newcastle Knights (42)
Tries: Chris Veaila, Lachlan Crouch, Mitchell Henderson, Max Bradbury, Oryn Keeley, Taj Blackman, Jacob Davis
Goals: Jonah Pezet 7
---
Canberra Raiders 22 Manly-Warringah Sea Eagles 28
Venue: Raiders Club Belconnen
Date: Saturday 9 February 2019 at 1:30pm
Canberra Raiders (22)
Tries: Matthew Stewart 2, Jahrea Lole Ngarima, Kane Rushton
Goals: Tristan Wheeler 2, Matthew Stewart 1
Manly-Warringah Sea Eagles (28)
Tries: Thomas Wheen, Konisi Vosaicake, Oscar Palin, Teddy Wilson, Daniel O'Donnell
Goals: Teddy Wilson 4
---
North Sydney Bears had a bye this round.
---
RELATED: Click here to view the current UNE Harold Matthews Cup ladder.