Team Lists:
TEAMS: NSWRL Tarsha Gale Cup - 2018 Round 1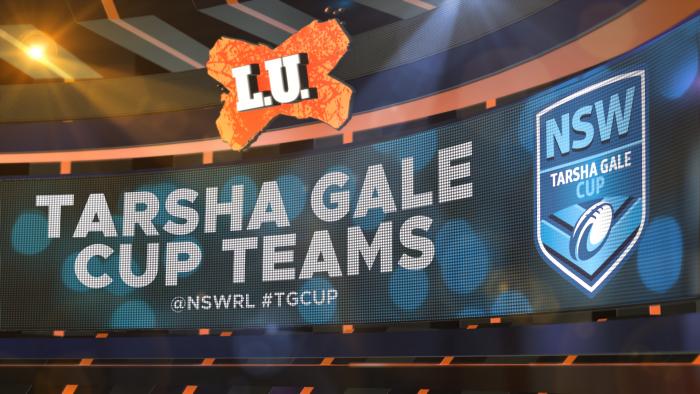 It's Teamlist Tuesday for Round 1 of the 2018 Tarsha Gale Cup Season! Around 5pm AEDT every Tuesday, the full teams for each #TGCup round will be posted right here!
All times are listed in AEST (NSW/VIC/ACT) unless otherwise noted.
Twitter: Follow @LeagueUnlimited
Facebook: Like LeagueUnlimited - NRL & Rugby League News
---
---

1. Joeli Morris 2. Emily Harman 3. Shenay Ball 4. Skye Pullman 5. Ellie Russell 6. Tazmyne Luschwitz 7. Janiya Brown 8. Harmany Liddell 9. Olivia Glanville 10. Sophie Buller 14. Caitlan Johnson 15. Tia Cook 16. Olivia Kernick 17. Bree O'neill 18. Jasmine Strange

1. Lara Blom 2. Carly Drury 3. Chloe Faumuina 4. Leanne Toomalatai 5. Adi Makelesi Ranamalo 6. Taina Naividi 7. Ema Rainima 8. A. Fasavalu-fa'amausili 9. Senimili Rabuatoka 10. Sereana Naitokatoka 11. Aya Elosman 12. Hana Herlihy 13. Betty Mose 14. A. Shum-cottrell 15. Elizabeth Vakacoa 16. Rebecca Mose 20. T. Fasavalu-fa'amausili
Match Officials
Referees: Kassandra McDonald;
---

2. Lavinia Taiseni 3. Dena Isaako 4. Akela Pitcaithly 5. Cheryl Varga 6. Litiana Tuifua 7. Nikita Katoa 8. Shekinah Edwards 9. Jodi Leota-hughes 14. Emma Parker 15. Christian Pio 16. Janice Salevao 17. Faliki Pohiva

8. Mackenzie Stone 14. Bianca Cornwell 16. Brooke Gray 6. Shaylee Bent 15. Sophie Curtain 17. Marisa Posiano 20. M. Mcmanus - Ta'ase 11. Emily Curtain 13. Natalina Suaalii 2. Chelsea Jones 3. Cleopatra Carreno 4. Treiahna Lake 5. Anastasia Ioane 10. Drew Grant 12. Pauline Lee 22. Makayla Ward
Match Officials
Referees: Aaron McGeoch;Sideline Officials: Brodie Rushby, Jayden Kastelan;
---

1. Lilly-rose Bennett 2. Mikayla Kidd 3. Abby Holmes 4. Rhiannon Brown 7. Leanne Jackson 8. Hannah England 9. Keeley Davis 10. Emily Andrews 13. Maddison Weatherall 14. Dakotah Mannering 15. Eleni Amone 16. Hannah Byron 18. Taneisha Roberts 19. Briearn Skeates 20. Colby Heron

3. Ngalika Barker 4. Chloe Cameron 5. T. Elisara 7. Allison Futialo 8. Filomina Hanisi 9. Tangikina Hanisi 10. Nicole Kennedy 15. Tehiainu Raibevu 2. Natalie Bainou 6. Juanita Fakaua 11. Jasmine Lepua 12. Sela Masila 13. Christina Palu 14. Lauryn Pickersgill 16. S. Reynolds 17. Shilea-t Schaaf 18. Rosita Utia 19. Seranise Wilson 20. Karla Wise
Match Officials
Referees: Alexander Ward;Sideline Officials: Brandon Mani, Lachlan Greenfield;
---

1. Kyla Gordon 2. Shataya King 3. Montana Roberts 4. Robyn Draper 5. Grace Nuiqila 6. Lilly-anne Mason 7. Kayla Wells 8. Beverley Beale 9. Rebecca Bloomfield 10. Dakota Blacklock 11. Brandii Davis Welsh 12. Summer Dann 13. Lesina Kolo 14. Brittany Hunt 15. Georgia Minors

22. Sinead Sio 31. Suseni Kuli 18. Kelly Tavita 1. Doveinah Vine 4. Anita Nelson 6. Joy Tedeschi 7. Rhiannon Gregorio 9. Lupe Fatai 13. Kerri Putahi 2. Terese Taefu 8. Raquel Mcgrath 15. Syprus Lakisoe-mapuna 19. Senetima Tapugao 24. Renuka Phalaklang
Match Officials
Referees: Jack Gerrie;Sideline Officials: Mitchell Pitscheider, Brayden Wasson;
---

1. Tamika Millard 3. Jasmine Tooth 4. Emylee Hawke 6. Emily Hoffman 7. Krystyana Haridemos 8. Emma Johnson 9. Alicia Cowan 10. Ahlivia Ingram 11. Tara Mcgrath-west 12. Lauren Kelly 14. Sophie Haylan 15. Jada Olsen-flanagan 16. Sandra Dalton 17. Courtney-lee Picker 18. C. Fazey-robinson 19. Mackenzie Dodds 20. Cassidy Whitehouse

1. Kobe Dymock 2. Bryanna Murray 3. Tatum Allchin 4. Lashawnda Kelly 5. Raquel Willoughby 6. Kiarna Dymock 7. Lavinia Taukamo 8. Shae Hampson 9. Madison Scott 14. Zali Dymock 16. Nikki Baird 17. Amohia Hiroti 18. Maddison Curtin 19. Tasilina Folau 22. Daesha Baker-khamphan
Match Officials
Referees: Elijah Fernance;Sideline Officials: Adam Williams, Andrew Nightingale;
---