Results and Scorers:
RESULTS: 2020 NSWRL U18 UNE SG Ball Cup Round 5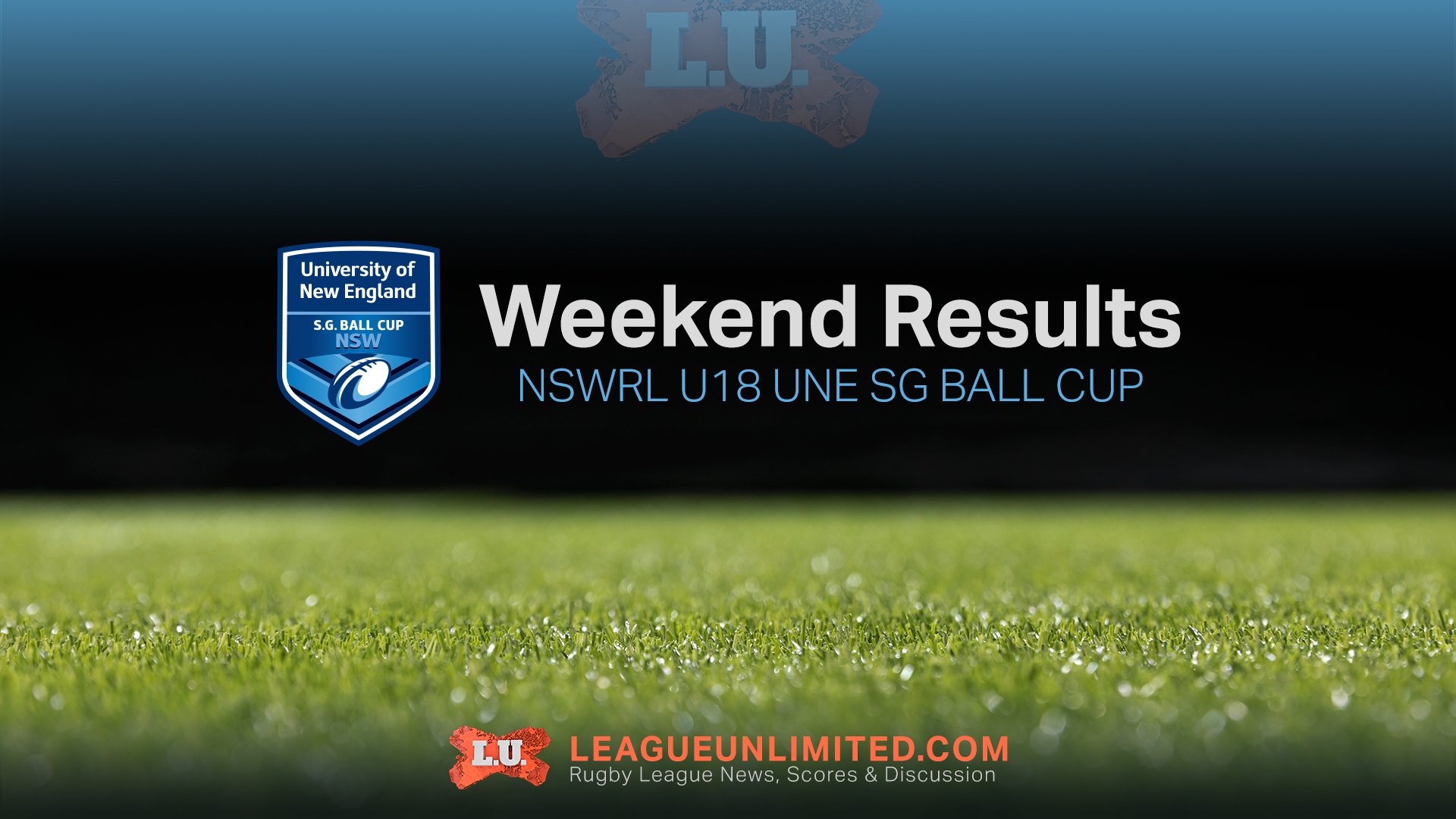 All the results and scorers from the fifth round of the 2020 NSWRL U18 UNE SG Ball Cup.
All listed times are AEDT (NSW/VIC/ACT).
---
RELATED: See the full list of 2020 NSWRL U18 UNE SG Ball Cup Draw and Results.
---
South Sydney Rabbitohs 12 Penrith Panthers 26
Venue: Metricon High Performance Centre
Date: Saturday 7 March 2020 at 11:30am
South Sydney Rabbitohs (12)
Tries: William Taliai, Mac Puafisi
Goals: Dion Teaupa 2
Penrith Panthers (26)
Tries: Jesse Buchan, Braith Alexander, Ashley Cosgrove, Trent Borthwick, Niwhai Puru
Goals: Niwhai Puru 2, Connor Mason 1
---
Central Coast Roosters 16 Balmain Tigers 34
Venue: Morry Breen Oval
Date: Saturday 7 March 2020 at 12:30pm
Central Coast Roosters (16)
Tries: Zac Montgomery, Tyler Moriarty, Finn Douch
Goals: Luke Heather 2
Balmain Tigers (34)
Tries: Cougar Wheeler 2, Oskar Enasio, Braydon Guyan, Livai Saukuru, Brandon Tumeth
Goals: Zane Camroux 5
---
North Sydney Bears 12 Western Suburbs Magpies 40
Venue: Macquarie University Sports Field
Date: Saturday 7 March 2020 at 12:30pm
North Sydney Bears (12)
Tries: Isaac Rosario, Kobe Lepua, Chris Trad
Western Suburbs Magpies (40)
Tries: Alosomu Lolohea 2, Salesa Tavui, Tristyn Ball, Saumani Vili Solomona, Byron Strickland, Cameron Lawrence
Goals: Jibiril Elrich 6
---
St George Dragons 14 Newcastle Knights 48
Venue: Mascot Oval
Date: Saturday 7 March 2020 at 1:00pm
St George Dragons (14)
Tries: Brendon Tapuai, Adam Arkley, Ben Johnson
Goals: Isaac Morris 1
Newcastle Knights (48)
Tries: Tevita Toloi 3, Lachlan Williams 3, Brocco Uhrle, Jonah Pezet, Travis Petersen
Goals: Jonah Pezet 6
---
West Coast Pirates 8 Manly-Warringah Sea Eagles 68
Venue: Ken Allen Field
Date: Saturday 7 March 2020 at 1:30pm
West Coast Pirates (8)
Tries: Kenny Siliniu-Tulimafua, Quintin Fui
Manly-Warringah Sea Eagles (68)
Tries: Kaeo Weekes 3, Simon Tito 2, Siua Fotu 2, Cameron Brown 2, Tyreece Tonga, Luke Tucker, Jamie Humphreys, Seturi Iakopo
Goals: Charlie Thompson 8
---
Victoria Thunderbolts 32 Illawarra Steelers 28
Venue: Casey Fields
Date: Saturday 7 March 2020 at 2:00pm
Victoria Thunderbolts (32)
Tries: Lene Feterika 2, Sione Finau, Poasa Telepe, Fonua Pole, Gabriel Bartlett
Goals: Sualauvi Fa'alogo 2, Noah Natapu 2
Illawarra Steelers (28)
Tries: Ben Lavender 2, Jackson Shereb, Talatau Amone, Jacob Webster
Goals: Tyrone Roberts 4

---
Warriors 42 Parramatta Eels 22
Venue: The Trusts Arena
Date: Sunday 8 March 2020 at 11:00am
Warriors (42)
Tries: Taniela Otukolo 2, Viliami Vailea 2, Ali Leiataua, TJ Devery, Tony Tafa, Josiah Karapani
Goals: Sione Moala 5
Parramatta Eels (22)
Tries: Josh Tuipulotu 2, Tutonu Junior Wright 2
Goals: Josh Chappell 3
---
Canberra Raiders 20 Cronulla-Sutherland Sharks 16
Venue: Gungahlin Enclosed Oval
Date: Sunday 8 March 2020 at 3:00pm
Canberra Raiders (20)
Tries: Wilson Hamblin, Livai Kaloutolu, Zane Thomson, Brown Kuresa
Goals: Junior Tupou 2
Cronulla-Sutherland Sharks (16)
Tries: Jordan Samrani 2, Douglas Levi, Kitione Kautoga

---
Sydney Roosters and Canterbury-Bankstown Bulldogs had a bye this round.
---
RELATED: Click here to view the current NSWRL U18 UNE SG Ball Cup ladder.