Results and Scorers:
RESULTS: 2019 Betfred Championship Round 27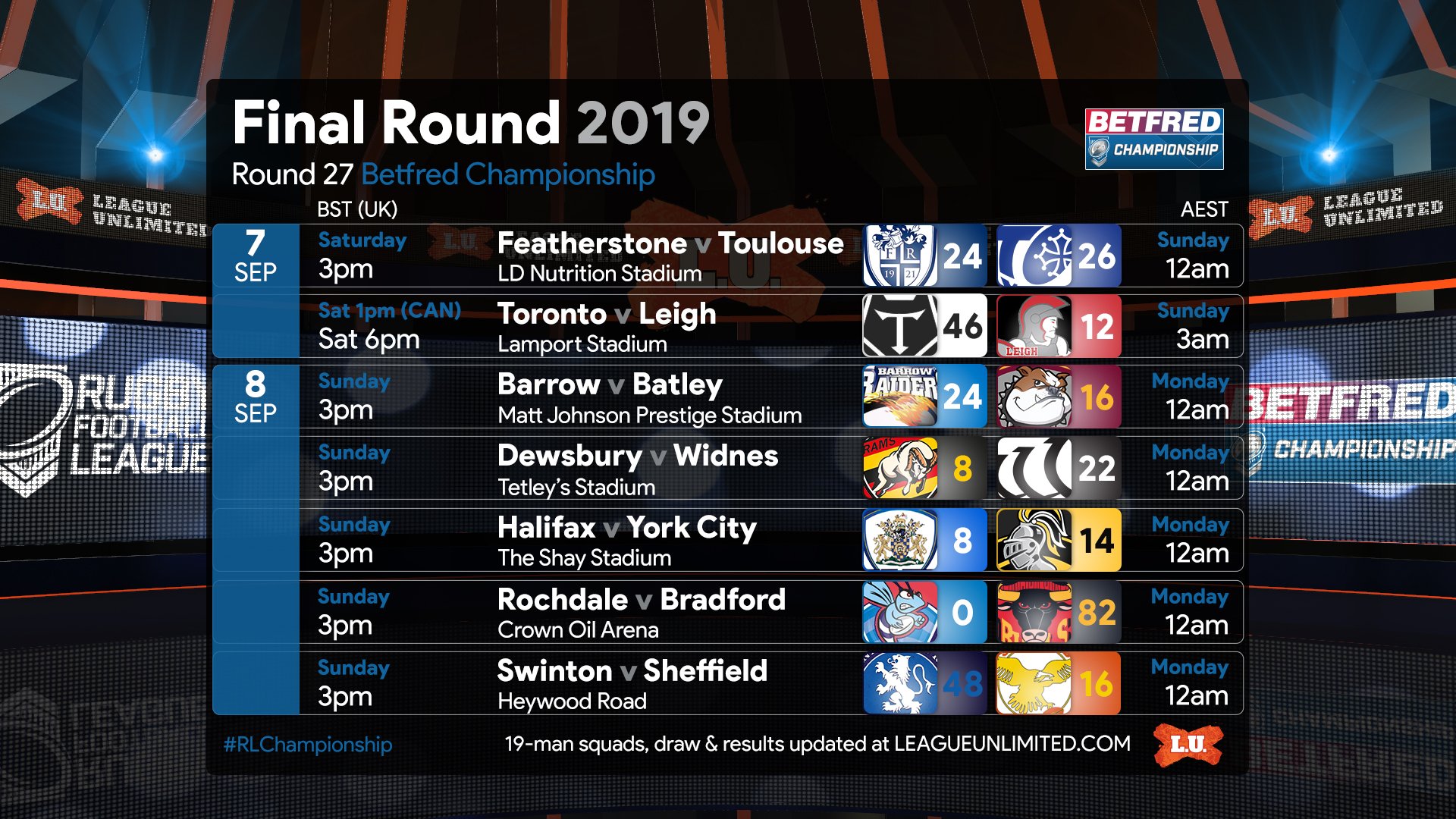 All the results and scorers from the final round of the RFL Betfred Championship.
All listed times are AEST (NSW/QLD/VIC/ACT).
---
RELATED: See the full list of 2019 Betfred Championship Draw and Results.
---
Featherstone Rovers 24 Toulouse Olympique XIII 26
Venue: LD Nutrition Stadium
Crowd: 2334
Date: Sunday 8 September 2019 at 12:00am
Featherstone Rovers (24)
Tries: Cameron King 2, Dane Chisholm, Alex Sutcliffe
Goals: Dane Chisholm 4
Toulouse Olympique XIII (26)
Tries: Mathieu Jussaume, Ben Evans, Dean Parata 2, Stan Robin
Goals: Mark Kheirallah 3
---
Toronto Wolfpack 46 Leigh Centurions 12
Venue: Lamport Stadium
Date: Sunday 8 September 2019 at 3:00am
Toronto Wolfpack (46)
Tries: Josh Mccrone 2, Hakim Miloudi, Gareth O'brien, Matty Russell, Joe Mellor, Liam Kay, Bob Beswick
Goals: Gareth O'Brien 7
Leigh Centurions (12)
Tries: Kevin Brown, Ryan Brierley
Goals: Martyn Ridyard 2
---
Halifax RLFC 8 York City Knights 14
Venue: The Shay Stadium
Crowd: 1862
Date: Monday 9 September 2019 at 12:00am
Halifax RLFC (8)
Tries: Will Sharp, Ed Barber
York City Knights (14)
Tries: Connor Robinson, Matt Chilton
Goals: Connor Robinson 3
---
Swinton Lions 48 Sheffield Eagles 16
Venue: Heywood Road
Crowd: 814
Date: Monday 9 September 2019 at 12:00am
Swinton Lions (48)
Tries: Matty Ashton 5, Gavin Bennion, Jack Wells, Jack Hansen, Ben Morris
Goals: Jack Hansen 5, Matty Ashton 1
Sheffield Eagles (16)
Tries: Aaron Brown, Ben Hellewell, Corey Makelim
Goals: Pat Walker 2
---
Barrow Raiders 24 Batley Bulldogs 16
Venue: Matt Johnson Prestige Stadium
Crowd: 1214
Date: Monday 9 September 2019 at 12:00am
Barrow Raiders (24)
Tries: Deon Cross, Wartovo Puara, Stargroth Amean, Alec Susino
Goals: Jamie Dallimore 4
Batley Bulldogs (16)
Tries: Dom Brambani, Alistair Leak, Keenan Tomlinson
Goals: Dom Brambani 2
---
Dewsbury Rams 8 Widnes Vikings 22
Venue: Tetley's Stadium
Crowd: 1409
Date: Monday 9 September 2019 at 12:00am
Dewsbury Rams (8)
Tries: Rob Worrincy 2
Widnes Vikings (22)
Tries: Owen Buckley 2, Jack Owens, Chris Dean
Goals: Jack Owens 3
---
Rochdale Hornets 0 Bradford Bulls 82
Venue: Crown Oil Arena
Crowd: 1328
Date: Monday 9 September 2019 at 3:00am
Rochdale Hornets (0)
Bradford Bulls (82)
Tries: Dalton Grant 3, Joe Keyes 2, Matthew Storton, Jake Webster, Ethan Ryan, James Green, Ross Oakes, Brandon Pickersgill, Jordan Lilley, Ross Peltier, Connor Farrell, Matty Wildie
Goals: Joe Keyes 10, Ethan Ryan 1
---
RELATED: Click here to view the current Betfred Championship ladder.