Results and Scorers:
RESULTS: 2019 Ron Massey Cup Round 24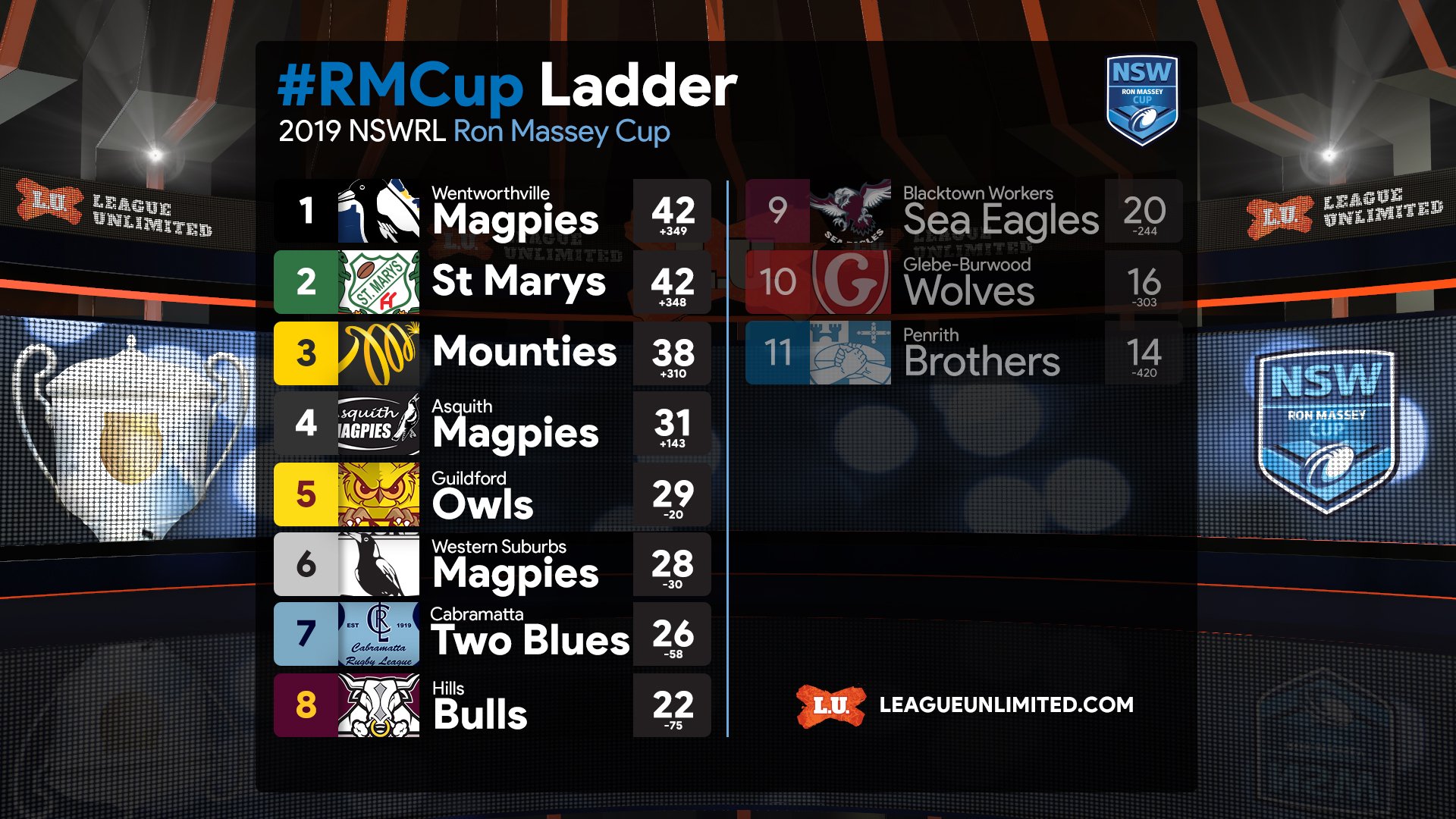 All the results and scorers from the final round of the NSWRL Ron Massey Cup.
All listed times are AEST (NSW/QLD/VIC/ACT).
---
RELATED: See the full list of 2019 Ron Massey Cup Draw and Results.
---
Mounties RLFC 30 Wentworthville Magpies 18
Venue: Aubrey Keech Reserve
Date: Saturday 31 August 2019 at 1:00pm
Mounties RLFC (30)
Tries: Roman Ioelu, Vincent Rennie, Steve Tavita, Lazarus Brown, Jett Karam
Goals: Sam Duggan 5
Wentworthville Magpies (18)
Tries: Brad Keighran, Kieran Hayman, Charlton Shaafhausen
Goals: Beau Henry 2, Brad Keighran 1
---
Cabramatta Two Blues 18 Glebe Burwood Wolves 20
Venue: New Era Stadium
Date: Saturday 31 August 2019 at 3:00pm
Cabramatta Two Blues (18)
Tries: Malakai Houma, Jordan Latham, Honeti Tuha
Goals: Brandon Finnegan 2, Honeti Tuha 1
Glebe Burwood Wolves (20)
Tries: Kyle Lovett, Brock Pelligra, Ben Jackson
Goals: Ben Jackson 4
---
Penrith Brothers 22 Western Suburbs Magpies 40
Venue: Hickeys Lane Reserve
Date: Saturday 31 August 2019 at 3:00pm
Penrith Brothers (22)
Tries: Penita Tuavao, Brodie Christopherson, Masi Paulo Fidow, Kitione Vikash
Goals: Masi Paulo Fidow 2, Harrison Coskerie 1
Western Suburbs Magpies (40)
Tries: Jowasa Drodrolagi 2, Omar Slaimankhel, Heheako Tuima, Avia Minute, Jayden El-Jalkh, Kieran Wyld
Goals: Kelsey Coakes 6
---
Blacktown Workers Sea Eagles 28 St Marys 60
Venue: HE Laybutt Sporting Complex
Date: Sunday 1 September 2019 at 11:00am
Blacktown Workers Sea Eagles (28)
Tries: Vieru Mapesone, Denzal Tonise, Leva Li, Shaun Fitzgerald, Maile Li
Goals: Kamren Cryer 2, Vieru Mapesone 2
St Marys (60)
Tries: John Faiumu 3, Jake Toby 3, Tom Skinner, George Tsikrikas, Kurt Falls, Isaac Thompson
Goals: Kurt Falls 10
---
Asquith Magpies 26 Guildford Owls 26
Venue: Storey Park
Date: Sunday 1 September 2019 at 3:00pm
Asquith Magpies (26)
Tries: Sione Hopoate 2, Mike Pearsall 2, Curtis Johnston
Goals: Matt Place 3
Guildford Owls (26)
Tries: Mat Ryan 2, Jayden Wheelhouse 2, Mason Farrell, Jake Ferguson
Goals: Penani Manumalealii 1
---
Hills District Bulls had a bye this round.
---
RELATED: Click here to view the final Ron Massey Cup ladder.