Results and Scorers:
RESULTS: 2019 Sydney Shield Round 10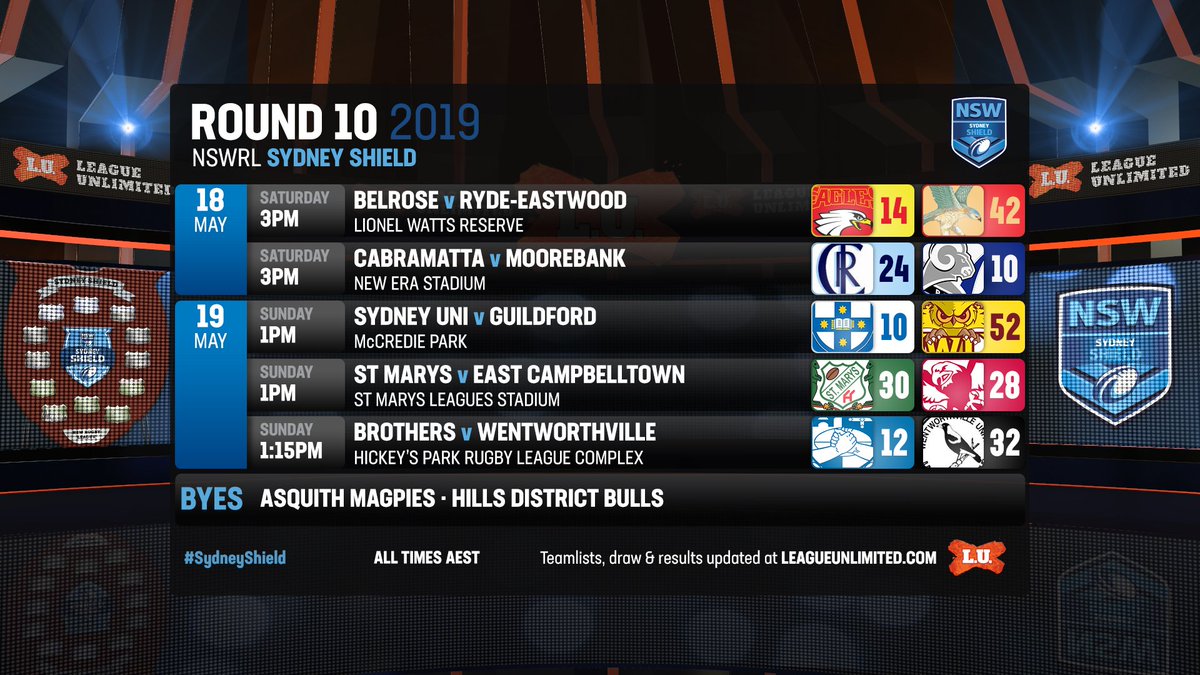 All the results and scorers from the tenth round of the NSWRL Sydney Shield.
All listed times are AEST (NSW/QLD/VIC/ACT).
---
RELATED: See the full list of 2019 Sydney Shield Draw and Results.
---
Cabramatta Two Blues 24 Moorebank Rams 10
Venue: New Era Stadium
Date: Saturday 18 May 2019 at 3:00pm
Cabramatta Two Blues (24)
Tries: Anthony Raheb 2, Tavena Koroisau, Samuel Radovu
Goals: Brandon Finnegan 4

Moorebank Rams (10)
Tries: Jake Kamire, Joseph Romeo
Goals: Joseph Romeo


---
Belrose Eagles 14 Ryde Eastwood Hawks 42
Venue: Lionel Watts Reserve
Date: Saturday 18 May 2019 at 3:00pm
Belrose Eagles (14)
Tries: Alec Panetta, William O'Toole, Rhys Wolloghan
Goals: Rhys Wolloghan

Ryde Eastwood Hawks (42)
Tries: Tristan Evans-Tsoi 4, Jay Watling 2, Bradley Cousins, Josh Rizk
Goals: Josh Rizk 3, Joshua Condon, Bradley Cincotta

---
Sydney University 10 Guildford Owls 52
Venue: McCredie Park
Date: Sunday 19 May 2019 at 1:00pm
Sydney University (10)
Tries: Anthony Overton, John Paul Hannawe
Goals: Brock Pelligra 1
Guildford Owls (52)
Tries: Saimone Lasalo 2, Josh Maree 2, Julian King, Connor Reardon, Jarred Petero, Leslie Ngaluafe, Jack Jordan, Ashley Brown
Goals: Lachlan Camroux 6
---
St Marys 30 East Campbelltown Eagles 28
Venue: St Marys Leagues Stadium
Date: Sunday 19 May 2019 at 1:00pm
St Marys (30)
Tries: Mose Feilo, Shanan Wood, Hayden Bonanno, Dylan McBain, Isaac Kennedy
Goals: Dylan White 5
East Campbelltown Eagles (28)
Tries: Craig Moustakas 2, Theo Leato 2, Shanon Gallant, Tom Morrison
Goals: Edwin Connor 2
---
Penrith Brothers 12 Wentworthville United 32
Venue: Hickeys Lane Reserve
Date: Sunday 19 May 2019 at 1:15pm
Penrith Brothers (12)
Tries: Pati Eni, Kilifi Tia Kilifi
Goals: Cody Smith 2
Wentworthville United (32)
Tries: Skippy Lipano 2, Siaosi Sisifa, Josh Tuitupou, Brendon Newton, Shaiquan Terekia
Goals: Brendon Newton 4
---
Asquith Magpies and Hills District Bulls had a bye this round.
---
RELATED: Click here to view the current Sydney Shield ladder.