Results and Scorers:
RESULTS: 2019 Intrust Super Cup Round 9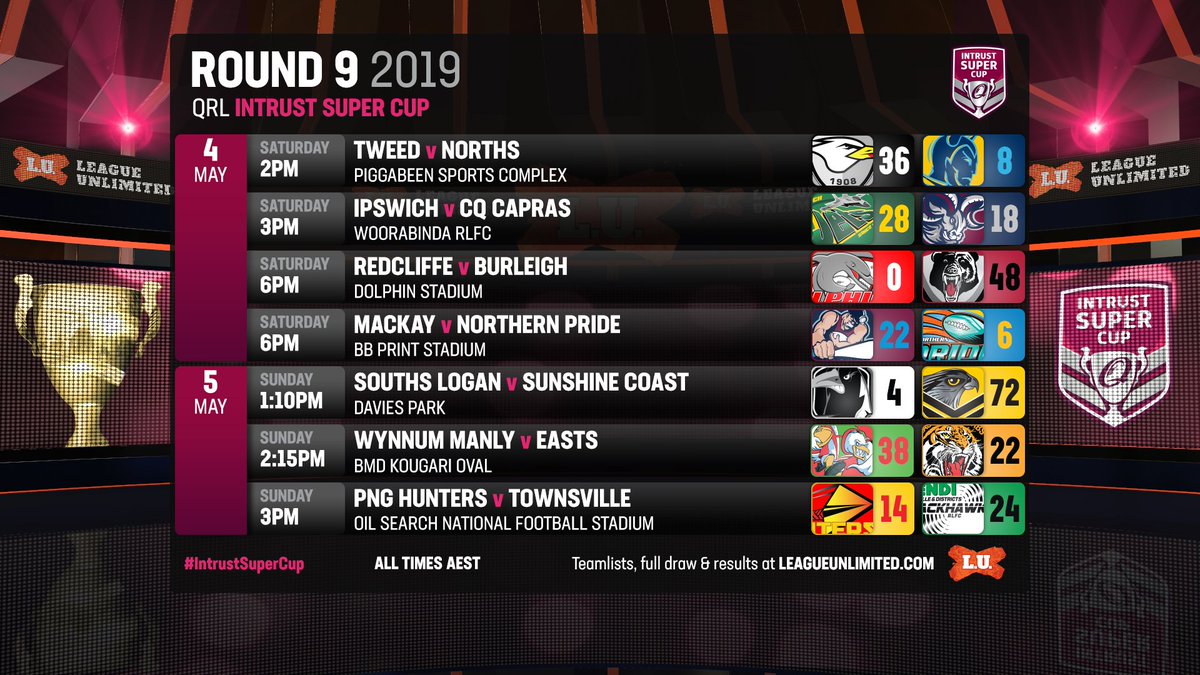 All the results and scorers from the ninth round of the QRL Intrust Super Cup.
All listed times are AEST (NSW/QLD/VIC/ACT).
---
RELATED: See the full list of 2019 Intrust Super Cup Draw and Results.
---
Tweed Seagulls 36 Norths Devils 8
Venue: Piggabeen Sports
Date: Saturday 4 May 2019 at 2:00pm
Tweed Seagulls (36)
Tries: Ryland Jacobs 2, Christian Hazard, Lindon McGrady, John Palavi, Tevita Folau
Goals: Lindon McGrady 6
Norths Devils (8)
Tries: Henry Penn, Herbie Farnworth
---
Ipswich Jets 26 Central Queensland Capras 18
Venue: Woorabinda RLFC
Date: Saturday 4 May 2019 at 3:00pm
Ipswich Jets (26)
Tries: Josh Cleeland, Kierran Moseley, Nat Neale, Julian Christian
Goals: Marmin Barba 5
Central Queensland Capras (18)
Tries: BJ Aufaga-Toomaga, Maipele Morseau, Kainoa Gudgeon
Goals: BJ Aufaga-Toomaga 3
---
Mackay Cutters 22 Northern Pride 6
Venue: BB Print Stadium Mackay
Date: Saturday 4 May 2019 at 6:00pm
Mackay Cutters (22)
Tries: Emry Pere, Yamba Bowie, Jack Hickson, Reuben Cotter
Goals: Carlin Anderson 3
Northern Pride (6)
Tries: Shawn Bowen
Goals: Jake Clifford 1
---
Redcliffe Dolphins 0 Burleigh Bears 48
Venue: Dolphin Stadium
Date: Saturday 4 May 2019 at 6:00pm
Redcliffe Dolphins (0)
Burleigh Bears (48)
Tries: Troy Leo 2, Josh Berkers 2, Hayden Schwass, Josh Rogers, Jacob Hind
Goals: Jamal Fogarty 8
---
Souths Logan Magpies 4 Sunshine Coast Falcons 72
Venue: Davies Park
Date: Sunday 5 May 2019 at 1:10pm
Souths Logan Magpies (4)
Tries: Jaydn Su'A
Sunshine Coast Falcons (72)
Tries: Jon Reuben 4, Sandor Earl 2, Justin Olam 2, Joe Stimson, Lachlan Roe, Chris Lewis, Nicho Hynes
Goals: Todd Murphy 12
---
Wynnum Manly Seagulls 38 Easts Tigers 22
Venue: BMD Kougari Oval
Date: Sunday 5 May 2019 at 2:15pm
Wynnum Manly Seagulls (38)
Tries: Ed Burns 2, Edene Gebbie 2, Richie Kennar, Kalolo Saitaua, Jayden Berrell
Goals: Pat Templeman 5
Easts Tigers (22)
Tries: Curtis Dansey-Smaller 2, Brett Greinke, Tom Kenny
Goals: Aaron Booth 3
---
PNG Hunters 14 Townsville Blackhawks 24
Venue: Oil Search National Football Stadium
Date: Sunday 5 May 2019 at 3:00pm
PNG Hunters (14)
Tries: Bland Abavu, Brendon Gutono, Brandon Nima
Goals: Charlie Simon 1
Townsville Blackhawks (24)
Tries: Zac Santo 2, Josh Chudleigh, Kalifa Faifai Loa
Goals: Levi Dodd 4
---
RELATED: Click here to view the current Intrust Super Cup ladder.