Results and Scorers:
RESULTS: 2019 Sydney Shield Round 8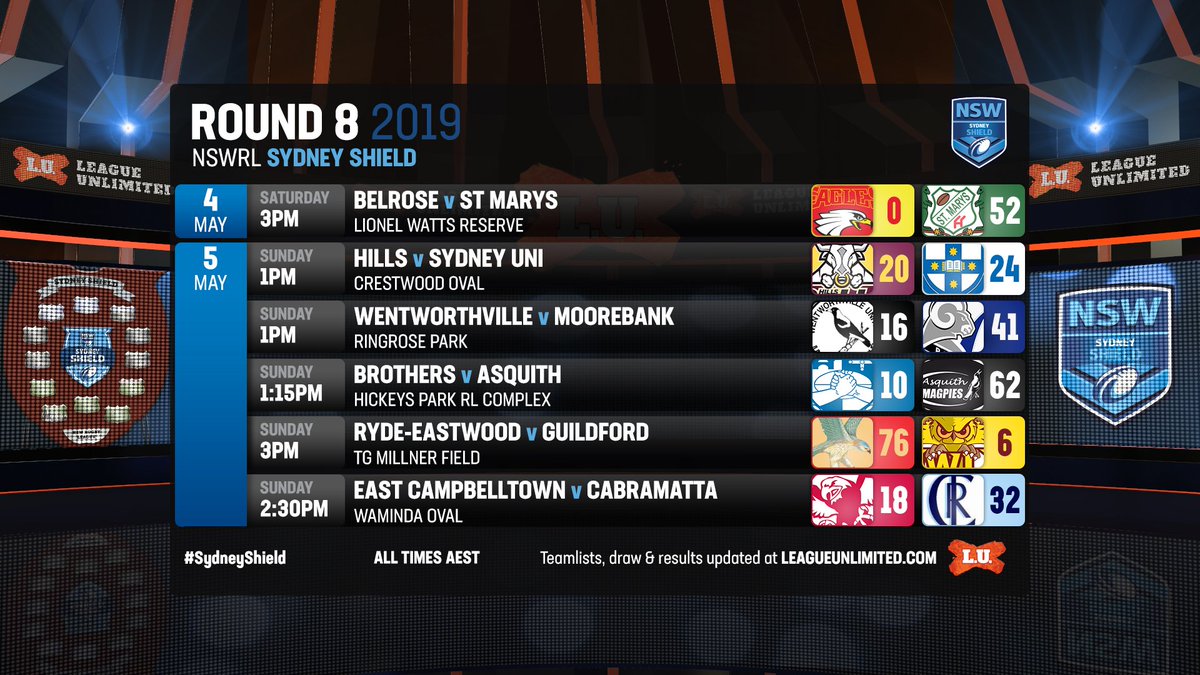 All the results and scorers from the eighth round of the NSWRL Sydney Shield.
All listed times are AEST (NSW/QLD/VIC/ACT).
---
RELATED: See the full list of 2019 Sydney Shield Draw and Results.
---
Belrose Eagles 0 St Marys 52
Venue: Lionel Watts Reserve
Date: Saturday 4 May 2019 at 3:00pm
Belrose Eagles (0)
St Marys (52)
Tries: Zachary Ryan 3, Reece Goldsmith, Daniel Brown, Dylan White, Hayden Bonanno, Justin Jones, Jesse Abbott
Goals: Isaac Thompson 6, Dylan White 2
---
Hills District Bulls 20 Sydney University 24
Venue: Crestwood Oval
Date: Sunday 5 May 2019 at 1:00pm
Hills District Bulls (20)
Tries: Tevita Piukana, Luke McDonald, Rhys Walpole, Ezra Gibson
Goals: Mitch Hyde 1, Ezra Gibson 1
Sydney University (24)
Tries: John Paul Hannawe, Matthew Long, Joshua Boumelhem, Brock Pelligra
Goals: Daniel Arahu 4
---
Wentworthville United 16 Moorebank Rams 41
Venue: Ringrose Park
Date: Sunday 5 May 2019 at 1:00pm
Wentworthville United (16)
Tries: Jake Ngaia, Tyrone Shelley, Josiah Tamasi
Goals: Todd Sapienza 2
Moorebank Rams (1)
Tries: Josh Wilkinson 3, Seb Winters-Chang 2, Kurtis Morrin, Joseph Romeo
Goals: Nikau Williams 4
Field Goals: Nikau Williams 1
---
Penrith Brothers 10 Asquith Magpies 62
Venue: Hickeys Lane Reserve
Date: Sunday 5 May 2019 at 1:15pm
Penrith Brothers (10)
Tries: Joshua Marion, Taku Simon
Goals: Cody Smith 1
Asquith Magpies (62)
Tries: Braeden Batiste 3, Samuel Stratis 2, Curtis Johnston, Josh Hall, Corey Browne-Higginbotham, Jared Palmer, Kurtis Preece, Niko Apelu
Goals: Samuel Stratis 9
---
East Campbelltown Eagles 18 Cabramatta Two Blues 32
Venue: Waminda Oval
Date: Sunday 5 May 2019 at 2:30pm
East Campbelltown Eagles (18)
Tries: Samuel Kimi-Ioane, Craig Moustakas, Amanono Tovio, Shannon Gallant
Goals: Edwin Connor 1
Cabramatta Two Blues (32)
Tries: Aussie Tuwhangai, Kakapuna Fotu, Isiah Tuari, Kobi Hookey, Brock Ilett, Moses Manu
Goals: Brandon Finnegan 3, Christian Papa 1
---
Ryde Eastwood Hawks 76 Guildford Owls 6
Venue: TG Millner Field
Date: Sunday 5 May 2019 at 3:00pm
Ryde Eastwood Hawks (76)
Tries: Tristan Evans-Tsoi 3, Kirk Patton 3, Reggie Alofipo 3, Max Burey, Josh Rizk, Brad Cincotta, Bennett Wheelhouse, Mitchell Gray
Goals: Josh Rizk 10
Guildford Owls (6)
Tries: Troy Errington
Goals: Lachlan Camroux 1
---
RELATED: Click here to view the current Sydney Shield ladder.