Results and Scorers:
RESULTS: 2019 Ron Massey Cup Round 8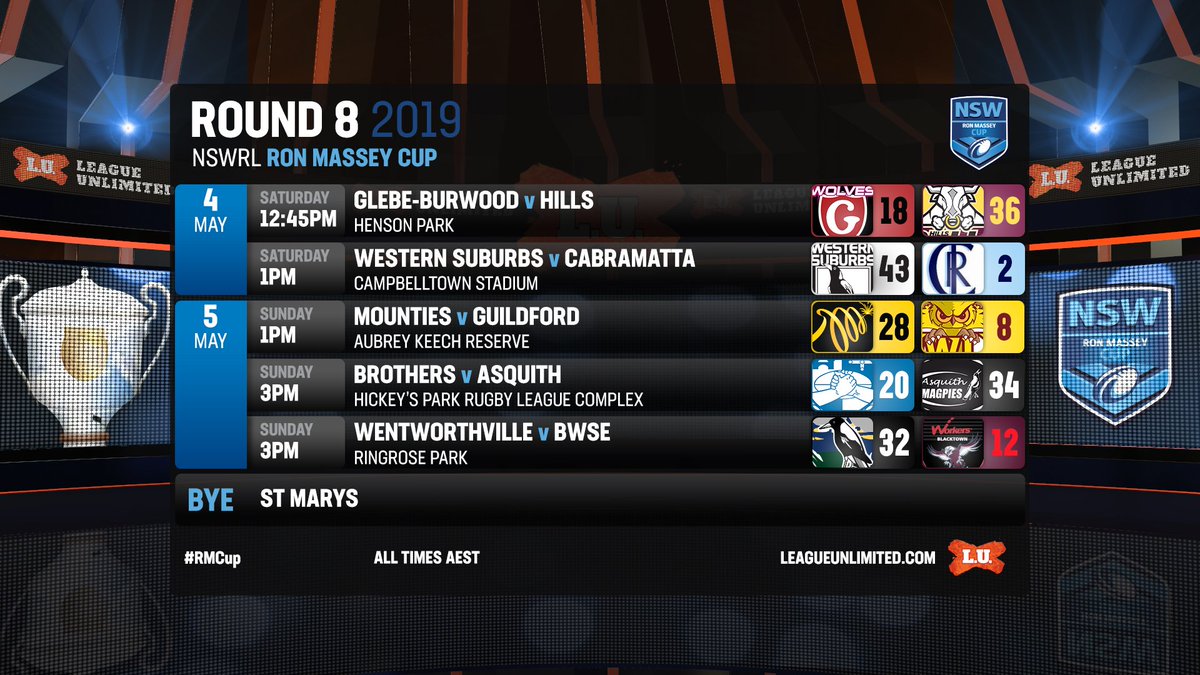 All the results and scorers from the eighth round of the NSWRL Ron Massey Cup.
All listed times are AEST (NSW/QLD/VIC/ACT).
---
RELATED: See the full list of 2019 Ron Massey Cup Draw and Results.
---
Glebe Burwood Wolves 18 Hills District Bulls 36
Venue: Henson Park
Date: Saturday 4 May 2019 at 12:45pm
Glebe Burwood Wolves (18)
Tries: Tyla Tamou, Latrell Schaumkel, Pio Nakubuwai
Goals: Jordan Chong Sun 2, Pio Nakubuwai 1
Hills District Bulls (36)
Tries: Patilai Bolea 3, Siaosi Keates 2, Jake Brennan, David Baumann
Goals: Harry Siejka 4
---
Western Suburbs Magpies 43 Cabramatta Two Blues 24
Venue: Campbelltown Stadium
Date: Saturday 4 May 2019 at 1:00pm
Western Suburbs Magpies (43)
Tries: Isaac Rabuatoka 2, Jack Gibbons 2, Ed Carter, Josh Davis, Josh Daley
Goals: Kelsey Coakes 7
Cabramatta Two Blues (24)
Tries: Jordan Latham, Josh Tangitau, Sam Gorman, Zach Nicholls
Goals: Toa Mata'afa 2, Ben Marschke 1, Ayden Carling 1
---
Mounties RLFC 28 Guildford Owls 8
Venue: Aubrey Keech Reserve
Date: Sunday 5 May 2019 at 1:00pm
Mounties RLFC (28)
Tries: Jamin Williams 2, Jack Payne 2, Robert Vai
Goals: Sam Duggan 4
Guildford Owls (8)
Tries: Josh Camroux, Jake Ferguson
---
Penrith Brothers 20 Asquith Magpies 34
Venue: Hickeys Lane Reserve
Date: Sunday 5 May 2019 at 3:00pm
Penrith Brothers (20)
Tries: Arthur Crichton, Aparama Vulavou, Jokatama Dokonivalu, Maverick Tweedie
Goals: Maverick Tweedie 2
Asquith Magpies (34)
Tries: Will Solway 2, Jordan Remfrey 2, Kenneth Koro, Shae Jarvis, Riley Travers
Goals: Blake Goodman 2, Mike Pearsall 1
---
Wentworthville Magpies 32 Blacktown Workers Sea Eagles 12
Venue: Ringrose Park
Date: Sunday 5 May 2019 at 3:00pm
Wentworthville Magpies (32)
Tries: Beau Henry 2, Danny Howard, Josh Bermingham, Eparama Navale, Josh Minhinnick
Goals: Beau Henry 4
Blacktown Workers Sea Eagles (12)
Tries: Fou Tagiilima, Francis Laloua-Tui
Goals: Kamren Cryer 2
---
St Marys had a bye this round.
---
RELATED: Click here to view the current Ron Massey Cup ladder.