Results and Scorers:
RESULTS: 2019 Jersey Flegg Cup Round 8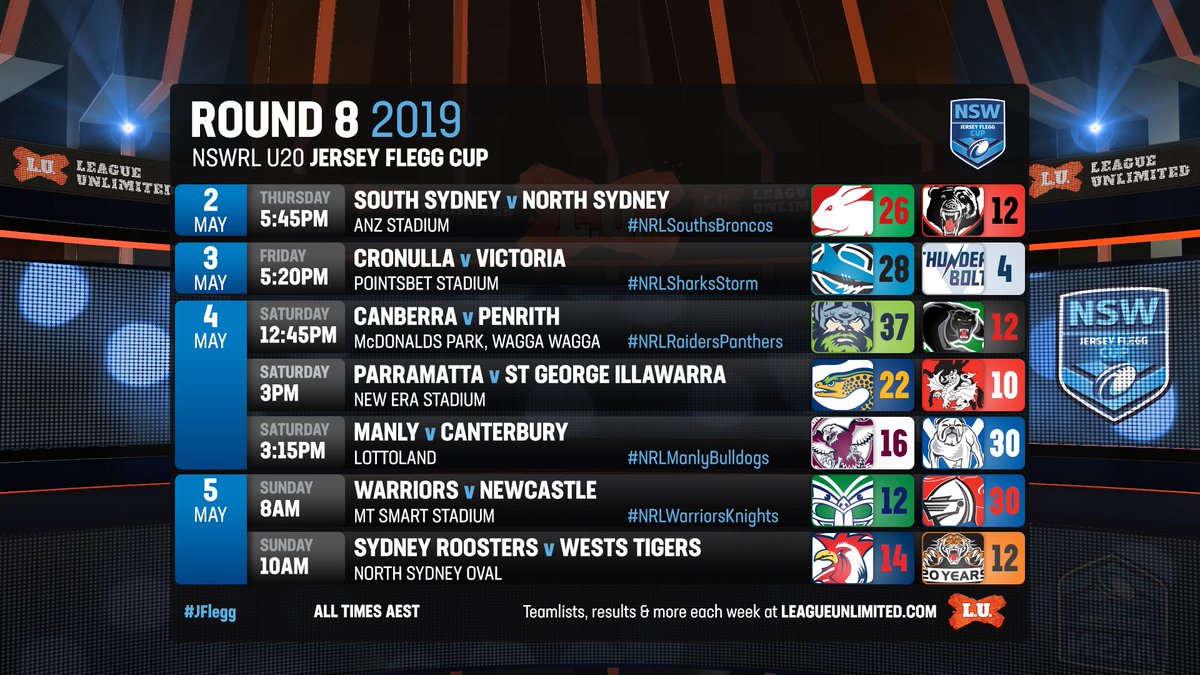 All the results and scorers from the eighth round of the NSWRL U20 Jersey Flegg Cup.
All listed times are AEST (NSW/QLD/VIC/ACT).
---
RELATED: See the full list of 2019 Jersey Flegg Cup Draw and Results.
---
South Sydney Rabbitohs 26 North Sydney Bears 12
Venue: ANZ Stadium
Date: Thursday 2 May 2019 at 5:45pm
South Sydney Rabbitohs (26)
Tries: Ky Rodwell, Jack Frasca, James Tautaiolefua, Lachlan Gale, Kane Allan
Goals: Blake Taaffe 3
North Sydney Bears (12)
Tries: Corey Fenning 2
Goals: Connor Garetty 2
---
Cronulla-Sutherland Sharks 28 Victoria Thunderbolts 4
Venue: PointsBet Stadium
Date: Friday 3 May 2019 at 5:20pm
Cronulla-Sutherland Sharks (28)
Tries: Jayden Millard, Vito Tevaga, Jonah Ngaronoa, Josh Delailoa, Vito Tevaga, Jonaiah Lualua
Goals: Jonaiah Lualua 2
Victoria Thunderbolts (4)
Tries: Josese Waqalevu
---
Canberra Raiders 37 Penrith Panthers 12
Venue: McDonalds Park
Date: Saturday 4 May 2019 at 12:45pm
Canberra Raiders (37)
Tries: Kyle Paterson 3, Matt Timoko, Harley Smith-Shields, Duwayne Mariner, Daine Spencer
Goals: Tobias Westcott 5
Penrith Panthers (12)
Tries: Stephen Crichton 2
Goals: Brendan Hands 2
---
Parramatta Eels 22 St George Illawarra Dragons 10
Venue: New Era Stadium
Date: Saturday 4 May 2019 at 3:00pm
Parramatta Eels (22)
Tries: Tyler Tuigamala, Joseph Taipari, Arron Shelford, Kyle Schneider
Goals: Kyle Schneider 3
St George Illawarra Dragons (10)
Tries: Sam McCann 2
Goals: Luke Gale 1
---
Manly-Warringah Sea Eagles 16 Canterbury-Bankstown Bulldogs 30
Venue: Lottoland
Date: Saturday 4 May 2019 at 3:15pm
Manly-Warringah Sea Eagles (16)
Tries: Mark Tepu-Smith, Zaan Weatherall, Roly Podesta
Goals: Roly Podesta 2
Canterbury-Bankstown Bulldogs (30)
Tries: Blake Clayton, Frank Kuresa, Alex Seve, Ryan Gray, Devontai Seumanutafa
Goals: Jake Averillo 5
---
Warriors 12 Newcastle Knights 30
Venue: Mt Smart
Date: Sunday 5 May 2019 at 8:00am
Warriors (12)
Tries: Jyris Glamuzina, Michael Lemafa
Goals: Casey Smih 2
Newcastle Knights (30)
Tries: Toby Marks, Tex Hoy, Jack Cameron, Bayden Searle, Brandon Russell
Goals: Bayden Searle 5
---
Sydney Roosters 14 Wests Tigers 12
Venue: North Sydney Oval
Date: Sunday 5 May 2019 at 10:00am
Sydney Roosters (14)
Tries: Malachi Retchford, Tyrell Neiufi, Craig McKenzie
Goals: Harrison Edwards 1
Wests Tigers (12)
Tries: Curtis Wilson, Rya Ngatikaura
Goals: Ben Stevanovic
---
RELATED: Click here to view the current Jersey Flegg Cup ladder.