Results and Scorers:
RESULTS: 2019 Sydney Shield Round 7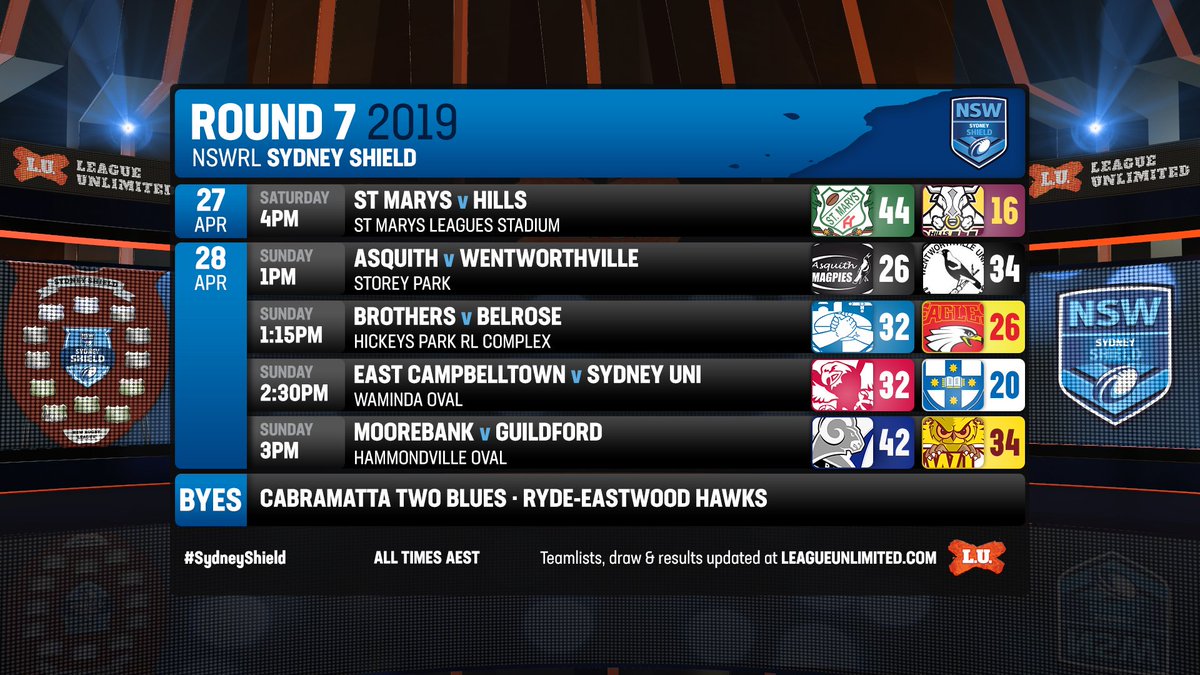 All the results and scorers from the seventh round of the NSWRL Sydney Shield.
All listed times are AEST (NSW/QLD/VIC/ACT).
---
RELATED: See the full list of 2019 Sydney Shield Draw and Results.
---
St Marys 44 Hills District Bulls 16
Venue: St Marys Stadium
Date: Saturday 27 April 2019 at 4:00pm
St Marys (44)
Tries: Chris Aunese-Scanlon 4, Isaac Kennedy 2, Dylan McBain 2
Goals: Dylan White 6
Hills District Bulls (16)
Tries: Rhys Walpole 2, Dean Kammel
Goals: Ezra Gibson 2
---
Asquith Magpies 26 Wentworthville United 34
Venue: Storey Park
Date: Sunday 28 April 2019 at 1:00pm
Asquith Magpies (26)
Tries: Justin Burt, Peter Nay, Jake Attard, Hayden McWilliam, Thomas Menzies
Goals: Sam Stratis 3
Wentworthville United (34)
Tries: Todd Sapienza 2, Saimoni Gaunavinaka 2, Shaiquan Terekia, Tyrone Shelley
Goals: Brendon Newton 5
---
Penrith Brothers 32 Belrose Eagles 26
Venue: Hickeys Lane Reserve
Date: Sunday 28 April 2019 at 1:15pm
Penrith Brothers (32)
Tries: Jak Cannell 2, Penita Tuavao, Jake Webb, Matt Whyte, Patrick Hinder
Goals: Cody Smith 2, Jake Webb 1, Masi Paulo Fidow 1
Belrose Eagles (26)
Tries: Kodi Godinet 2, Jake Morrison, William O'Toole
Goals: Jack Wilson 5
---
East Campbelltown Eagles 32 Sydney University 20
Venue: Waminda Oval
Date: Sunday 28 April 2019 at 2:30pm
East Campbelltown Eagles (32)
Tries: Va'enuku Vatuvei, Alapati Potifara, Theo Leato, Jye Ellul, Guy Thompson, Mason Talolua
Goals: Edwin Connor 4
Sydney University (20)
Tries: Joe Kavoa 2, Deighton Ieriko, Jaz Flavell
Goals: Daniel Arahu 1, Brock Pelligra 1

---
Moorebank Rams 42 Guildford Owls 34
Venue: Hammondville Oval
Date: Sunday 28 April 2019 at 3:00pm
Moorebank Rams (42)
Tries: Shayden Stevens 2, Brock Hamill, Mark Griffiths, Jake Kamire, Zac Saddler, Josh WIlkinson, Sebastian Winters-Chang
Goals: Nikau Williams 5
Guildford Owls (34)
Tries: Beni Valu 2, Julian King, Robert Longbottom, Jaydn Field, Cameron Eyles
Goals: Lachlan Camroux 5
---
Cabramatta Two Blues and Ryde Eastwood Hawks had a bye this round.
---
RELATED: Click here to view the current Sydney Shield ladder.