Results and Scorers:
RESULTS: 2019 Hastings Deering Colts Round 6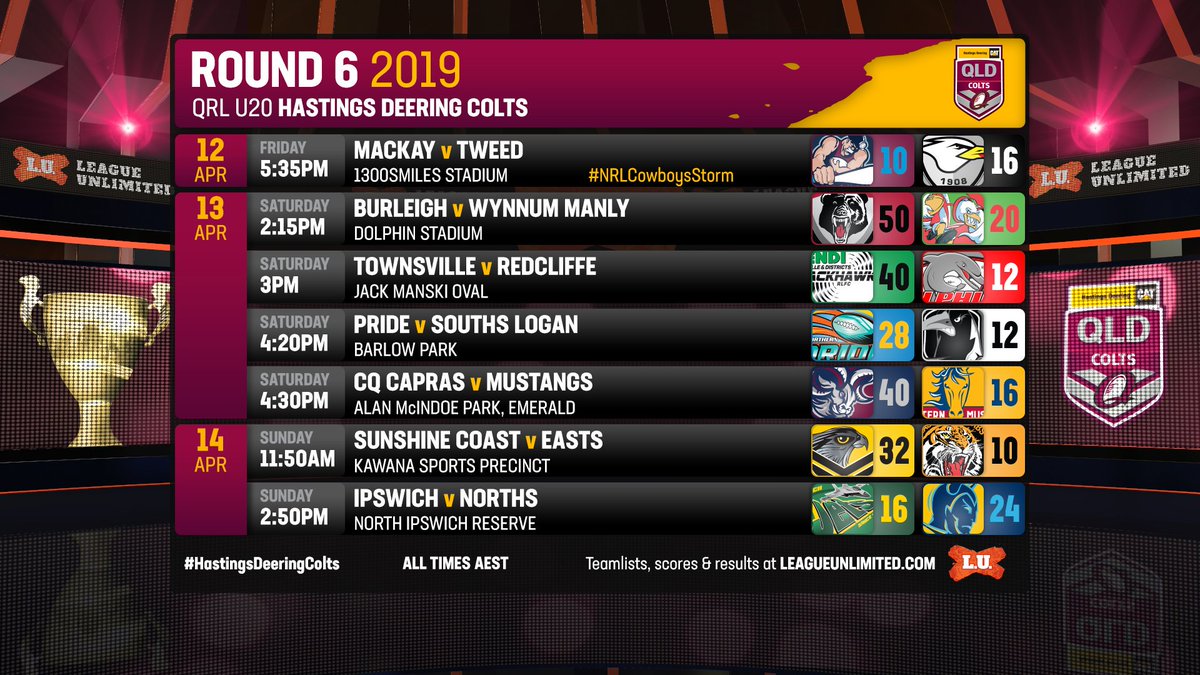 All the results and scorers from the sixth round of the QRL U20 Hastings Deering Colts.
All listed times are AEST (NSW/QLD/VIC/ACT).
---
RELATED: See the full list of 2019 Hastings Deering Colts Draw and Results.
---
Mackay Cutters 10 Tweed Seagulls 16
Venue: 1300SMILES Stadium
Date: Friday 12 April 2019 at 5:35pm
Mackay Cutters (10)
Tries: Taine Browne 2
Goals: Brendan White 1
Tweed Seagulls (16)
Tries: Tahne Robinson, Gerard Ah-Nau, Reece Butler
Goals: Jaman Rio 2
---
Burleigh Bears 50 Wynnum Manly Seagulls 20
Venue: Pizzey Park
Date: Saturday 13 April 2019 at 2:15pm
Burleigh Bears (50)
Tries: Taine Tuaupiki 2, Shallin Fuller 2, Mikey Williams, Lochlan Turnbull, Reece Tapine, Tristan Powell, Kea Pere
Goals: Lochlan Turnbull 7
Wynnum Manly Seagulls (20)
Tries: Dredin Sorensen McGee 2, William Messa, Zane Wallace
Goals: Shannon Gardner 2
---
Townsville Blackhawks 40 Redcliffe Dolphins 12
Venue: Jack Manski Oval
Date: Saturday 13 April 2019 at 2:20pm
Townsville Blackhawks (40)
Tries: Sam Murphy, Michael Bell 2, Tom McCagh, Daejarn Asi, Adam Cook, Johnathon Smith
Goals: Adam Cook 6
Redcliffe Dolphins (12)
Tries: Dwight Saueiha, Pat Randall
Goals: Dwight Saueiha 2
---
Northern Pride 28 Souths Logan Magpies 12
Venue: Barlow Park
Date: Saturday 13 April 2019 at 4:20pm
Northern Pride (28)
Tries: Brandon Jackonia, Usaia Fonongaloa, Damien Burke, Ewan Moore, Simon Bevan
Goals: Jai Doherty 4
Souths Logan Magpies (12)
Tries: Leevai Sutton, Blake Scott
Goals: Hayden Ryan 2
---
CQ Capras 34 Western Mustangs 16
Venue: Alan McIndoe Park
Date: Saturday 13 April 2019 at 4:30pm
CQ Capras (34)
Tries: Blake Moore 2, Harrison McIndoe, Myles Gal, Richard Sisifa, Ryan Franks, Lachlan Hubner
Goals: Christian Smith 3
Western Mustangs (16)
Tries: Austin Jennings 2, Kavaua Neliman
Goals: Sam Thompson 2
---
Sunshine Coast Falcons 32 Easts Tigers 10
Venue: Kawana Sports Precinct
Date: Sunday 14 April 2019 at 11:50am
Sunshine Coast Falcons (32)
Tries: Blake Wilson 2, Steven Borg, Tyson Smoothy, Wyatt Reynolds, Dylan Carolan, Tye James
Goals: Tom Dwan 2
Easts Tigers (10)
Tries: Kieren Mundine, Joel Hughes
Goals: Joel Hughes 1
---
Ipswich Jets 16 Norths Devils 24
Venue: North Ipswich Reserve
Date: Sunday 14 April 2019 at 2:50pm
Ipswich Jets (16)
Tries: Wilson Malaesilia, Brock Moran, Saimoni Waqa
Goals: Josh McCarroll 2
Norths Devils (24)
Tries: Jack Paterson 2, Dylan Quinn, Connor Murray
Goals: Dylan Quinn 4
---
RELATED: Click here to view the current Hastings Deering Colts ladder.