Results and Scorers:
RESULTS: 2019 Intrust Super Cup Round 6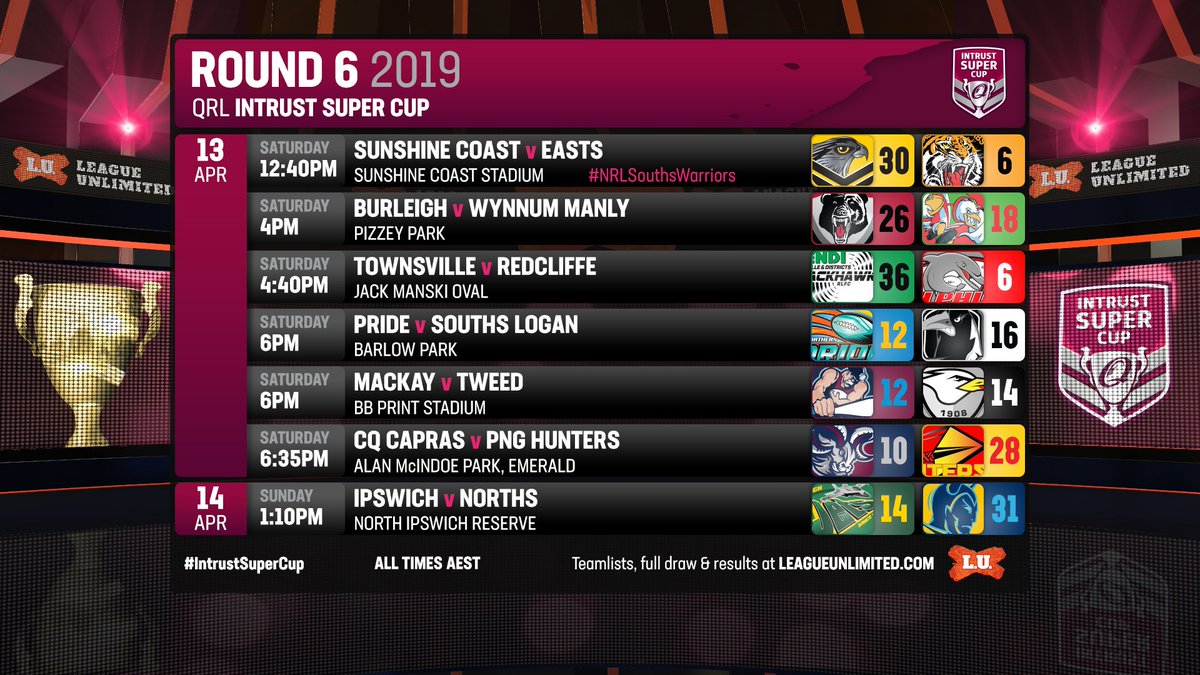 All the results and scorers from the sixth round of the QRL Intrust Super Cup.
All listed times are AEST (NSW/QLD/VIC/ACT).
---
RELATED: See the full list of 2019 Intrust Super Cup Draw and Results.
---
Sunshine Coast Falcons 30 Easts Tigers 6
Venue: Sunshine Coast Stadium
Date: Saturday 13 April 2019 at 12:45pm
Sunshine Coast Falcons (30)
Tries: Nathaniel McGavin 2, Todd Murphy, Chris Lewis, Harry Grant
Goals: Todd Murphy 5
Easts Tigers (6)
Tries: Aaron Booth
Goals: Aaron Booth 1
---
Burleigh Bears 26 Wynnum Manly Seagulls 18
Venue: Pizzey Park
Date: Saturday 13 April 2019 at 4:00pm
Burleigh Bears (26)
Tries: Jesse Arthars 2, Kurtis Rowe, Troy Leo
Goals: Jamal Fogarty 5
Wynnum Manly Seagulls (18)
Tries: Alex Barr, Matiu Love-Henry, Mitch Cronin
Goals: Tom Dearden 3
---
Townsville Blackhawks 36 Redcliffe Dolphins 6
Venue: Jack Manski Oval
Date: Saturday 13 April 2019 at 4:40pm
Townsville Blackhawks (36)
Tries: Justin O'Neill 2, Murray Taulagi, Krys Freeman, Tom Opacic, Tom Gilbert
Goals: Levi Dodd 5, Kalifa Faifai Loa 1
Redcliffe Dolphins (6)
Tries: Jordan Grant
Goals: Bryce Donovan 1
---
Northern Pride 12 Souths Logan Magpies 16
Venue: Barlow Park
Date: Saturday 13 April 2019 at 6:00pm
Northern Pride (12)
Tries: Tom Hancock, Aidan Day
Goals: Brayden Torpy 2
Souths Logan Magpies (16)
Tries: Matt Soper-Lawler 2, Mitch Frei
Goals: Guy Hamilton 2
---
Mackay Cutters 12 Tweed Seagulls 14
Venue: BB Print Stadium Mackay
Date: Saturday 13 April 2019 at 6:00pm
Mackay Cutters (12)
Tries: Shane Wright 2
Goals: Carlin Anderson 2
Tweed Seagulls (14)
Tries: Treymain Spry, Talor Walters
Goals: Lindon McGrady 3
---
Central Queensland Capras 10 PNG Hunters 28
Venue: Alan McIndoe Park
Date: Saturday 13 April 2019 at 6:30pm
Central Queensland Capras (10)
Tries: Maipele Morseu, Kainoa Gudgeon
Goals: BJ Aufaga-Toomaga 1
PNG Hunters (28)
Tries: Brendon Gutono, Junior Rop, Oti Bland Tony, Charlie Simon, Moses Meninga
Goals: Ase Boas 4
---
Ipswich Jets 14 Norths Devils 31
Venue: North Ipswich Reserve
Date: Sunday 14 April 2019 at 1:10pm
Ipswich Jets (14)
Tries: Marmin Barba, Denzel Burns
Goals: Marmin Barba 3
Norths Devils (31)
Tries: Jamayne Taunoa-Brown 2, Gehamat Shibasaki, Calum Gahan, Herbie Farnworth
Goals: Herbie Farnworth 5
Field Goals: Jack Ahearn 1
---
RELATED: Click here to view the current Intrust Super Cup ladder.