Results and Scorers:
RESULTS: 2019 Sydney Shield Round 2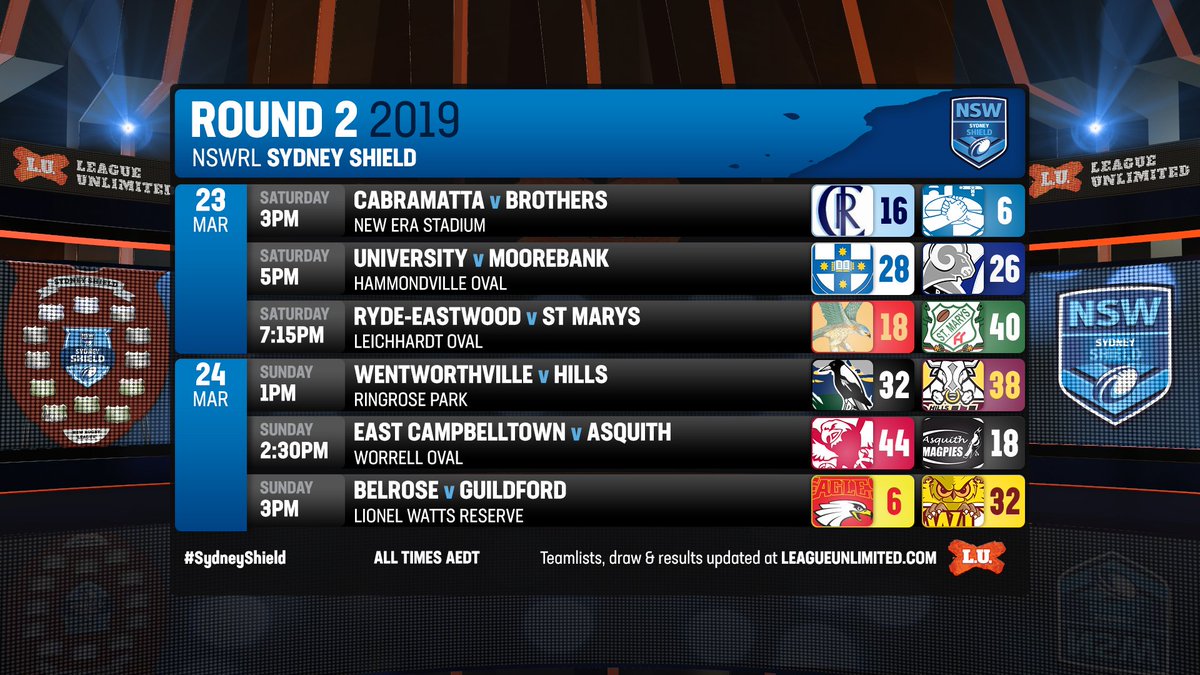 All the results and scorers from the second round of the NSWRL Sydney Shield.
All listed times are AEDT (NSW/VIC/ACT).
---
RELATED: See the full list of 2019 Sydney Shield Draw and Results.
---
Cabramatta Two Blues 16 Penrith Brothers 6
Venue: New Era Stadium
Date: Saturday 23 March 2019 at 3:00pm
Cabramatta Two Blues (16)
Tries: Zac Cardassilaris, Kobi Hookey, Keli Legutua
Goals: Solomon Tomokino 2
Penrith Brothers (6)
Tries: Penita Tuavao
Goals: Jake Webb 1
---
Sydney University 28 Moorebank Rams 26
Venue: Hammondville Oval
Date: Saturday 23 March 2019 at 5:00pm
Sydney University (28)
Tries: Corey Jefferys, Tesimoni Taliauli, Jordan Chong Sun, Ben Pointer, Josh Delailoa
Goals: Daniel Arahu 4
Moorebank Rams (26)
Tries: Josh Wilkinson 2, Tyrone Harding, Jake Horton
Goals: Nikau Williams 3
---
Ryde Eastwood Hawks 18 St Marys 40
Venue: Leichhardt Oval
Date: Saturday 23 March 2019 at 7:15pm
Ryde Eastwood Hawks (18)
Tries: Curtis Wilson, Richard Latu, Tristan Evans-Tsoi
Goals: Curtis Wilson 3
St Marys (40)
Tries: John Faiumu 2, Ratu Tuisese 2, Dean Zammit, Zach Ryan, Ben Cartwright
Goals: Dylan White 6
---
Wentworthville United 32 Hills District Bulls 38
Venue: Ringrose Park
Date: Sunday 24 March 2019 at 1:00pm
Wentworthville United (32)
Tries: Rameses Tuipulotu, Feao Lavemai, Muli Lasalo, William Kitt, Siaosi Sisifa, Skippy Lipano
Goals: Brendon Newton 4
Hills District Bulls (38)
Tries: Dean Kammel 2, Kelly Benson, Luke McDonald, Isaac Gorman, Jake Brennan
Goals: Mitch Hyde 7
---
East Campbelltown Eagles 44 Asquith Magpies 18
Venue: Worrell Park
Date: Sunday 24 March 2019 at 2:30pm
East Campbelltown Eagles (44)
Tries: Shondre Lee-Silva 2, Gus Garzaniti, Jarryd Eggleton, Guy Thompson, Edwin Connor 2
Goals: Edwin Connor 6
Asquith Magpies (18)
Tries: Daniel Vasek 2, Jared Palmer
Goals: Hayden McWilliam 2, Daniel Vasek 1
---
Belrose Eagles 6 Guildford Owls 32
Venue: Lionel Watts Reserve
Date: Sunday 24 March 2019 at 3:00pm
Belrose Eagles (6)
Tries: Koki Godinet
Goals: Andrew Layton 1
Guildford Owls (32)
Tries: Julian King 2, Lachlan Camroux 2, Shane Faaui, Saimone Lasalo
Goals: Lachlan Camroux 3, Troy Errington 1
---
RELATED: Click here to view the current Sydney Shield ladder.