Results and Scorers:
RESULTS: 2019 UNE SG Ball Cup Round 1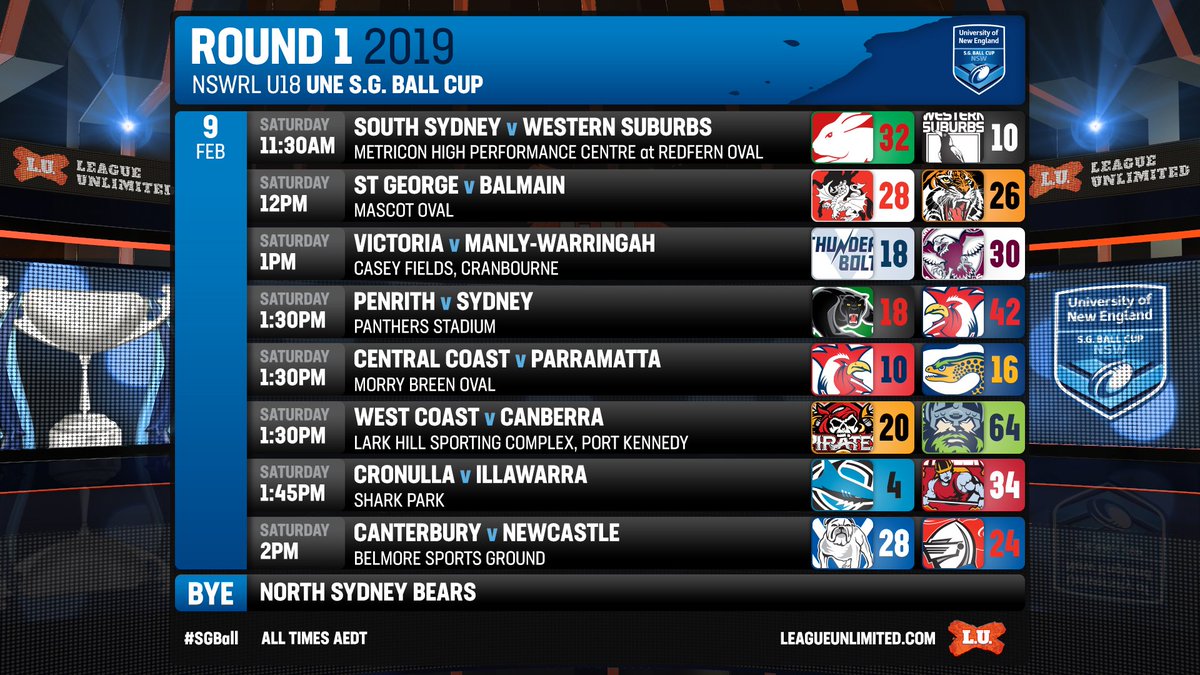 All listed times are AEST (NSW/QLD/VIC/ACT).
---
RELATED: See the full list of 2019 UNE SG Ball Cup Draw and Results.
---
South Sydney Rabbitohs 32 Western Suburbs Magpies 10
Venue: Metricon High Performance Centre
Date: Saturday 9 February 2019 at 11:30am
South Sydney Rabbitohs (32)
Tries: Logan Aldridge 2, Kaylib Savage, John Dodds, Krystian Mapapalangi, Daylen Meredith
Goals: Kaylib Savage 4
Western Suburbs Magpies (10)
Tries: Piliaau Togamaga, Jay Kirk
Goals: Luke Rouland 1
---
St George Dragons 28 Balmain Tigers 26
Venue: Mascot Oval
Date: Saturday 9 February 2019 at 12:00pm
St George Dragons (28)
Tries: Jacob Kiraz 2, Angus Blackmore, Spiro Psiroukis, Braxton Wallace
Goals: Spiro Psiroukis 4
Balmain Tigers (26)
Tries: Josh Rizk 2, Zayn Wilkins, Oskar Enasio, Jake Kusto
Goals: Zane Camroux 3
---
Victoria Thunderbolts 18 Manly-Warringah Sea Eagles 30
Venue: Casey Fields
Date: Saturday 9 February 2019 at 1:00pm
Victoria Thunderbolts (18)
Tries: Jack Natapu, Sione Finau, Tuilepogai Ieremia, Dean Ieremia
Goals: Pita-Will Purcell 1
Manly-Warringah Sea Eagles (30)
Tries: Tapu Tuipulotu 2, Josh Schuster, Siua Fotu, Kaeo Weekes, Siua Fotu
Goals: Jack Birt 3
---
Penrith Panthers 18 Sydney Roosters 42
Venue: Panthers Stadium
Date: Saturday 9 February 2019 at 1:30pm
Penrith Panthers (18)
Tries: Ben Farrar, Thomas Affleck, Brodie Henderson
Goals: Bailey Hughes 3
Sydney Roosters (42)
Tries: Jordan Swann 2, Amer Ghazzaoui 2, Asolelei Asolelei Fretton, Aporosa Kurucake, Faima Matila, Logan Muir
Goals: Ronald Volkman 5
---
Central Coast Roosters 10 Parramatta Eels 16
Venue: Morry Breen Oval
Date: Saturday 9 February 2019 at 1:30pm
Central Coast Roosters (10)
Tries: Jerry Ratabua, Riley Meyn
Goals: Reece Piepers 1
Parramatta Eels (16)
Tries: Matt Komolafe, David Hollis, Viliami Penisini
Goals: Sam Loizou 2
---
West Coast Pirates 20 Canberra Raiders 64
Venue: Lark Hill Sports Complex
Date: Saturday 9 February 2019 at 1:30pm
West Coast Pirates (20)
Tries: Dylan Estreich, Peliata Fisiihoi, Kyran Namana-Tahere, Porikapa Tukaki
Goals: Rangitukia Teirney 2
Canberra Raiders (64)
Tries: Brayden Robertson 2, Thomas Croker 2, Aidan Gaffey 2, Nicolas Hall, Manny Snooks, Jack Williams, Jack Colovatti, Jordan Williams, Ata Mariota
Goals: Brayden Robertson 8
---
Cronulla-Sutherland Sharks 4 Illawarra Steelers 34
Venue: Shark Park
Date: Saturday 9 February 2019 at 1:45pm
Cronulla-Sutherland Sharks (4)
Tries: Elliott Moaga

Illawarra Steelers (34)
Tries: Treigh Stewart 2, Blake Dowel, Aaron Schoupp, Jackson Shereb, Talatau Amone, Zach Herring
Goals: Aaron Schoupp 3
---
Canterbury-Bankstown Bulldogs 28 Newcastle Knights 24
Venue: Belmore Sports Ground
Date: Saturday 9 February 2019 at 2:00pm
Canterbury-Bankstown Bulldogs (28)
Tries: Kurt Picken, Khaled Rajab, Mosese Vuki, Jackson Topine, Issam Merhi, Jazzaiah Schaafhausen
Goals: Khaled Rajab 2

Newcastle Knights (24)
Tries: Kobe Davies, Christian Ma'anaima, Jaron Purcell, Callan Burgess
Goals: Logan Radizevic 4


---
North Sydney Bears had a bye this round.
---
RELATED: Click here to view the current UNE SG Ball Cup ladder.